Effect of priming on thymoquinone content and in vitro plant regeneration with tissue culture of black cumin (Nigella sativa L.) seeds
Original Article
JOURNAL
---
Journal of Chemical Metrology
VOLUME & ISSUE
---
Available Online: November 28,2018
STATISTICS
---
Viewed
69
times.
Downloaded
4
times
AUTHORS
---
1 - Department of Analytical Chemistry, Faculty of Pharmacy, Near East University, 99138 Nicosia, N.Cyprus, Mersin 10, Turkey

2 - Department of Field Crops, Faculty of Agriculture, Ankara University

3 - Department of Pharmacognosy, Faculty of Pharmacy, Ankara University

4 - 3Center of Education, Practice and Research in Phytotherapy, Bezmialem Vakif University,34093, Fatih
PDF OF ARTICLE
ABSTRACT
---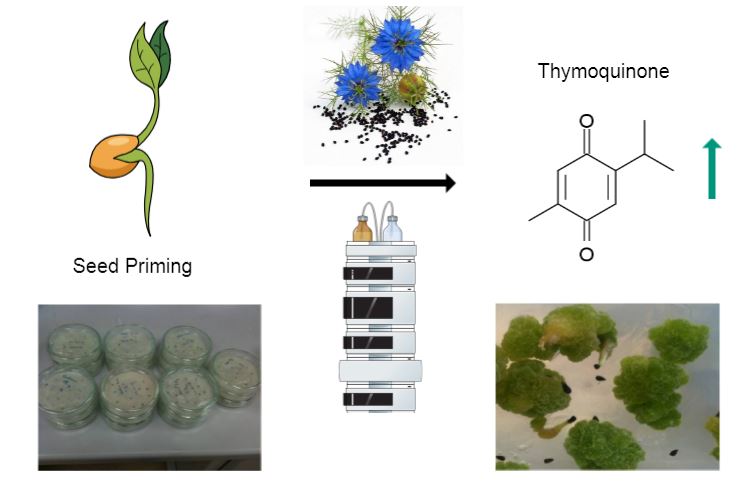 The aim of this study is to analyze the changes on thymoquinone content which is the major constituent of black cumin (Nigella sativa L.) seeds, by using priming methods. For the priming studies; seeds were waited in distilled water (18 - 20 hours), PEG (Polyethylene glycol 10%, 20%) and mannitol (4% and 6%) for 20 hours and dried 24 hours on blotting paper at room temperature (24 oC ± 1 oC). Best results of priming were seen at 4% mannitol treatment. Control (not primed) Nigella seeds and 4% mannitol primed seeds were planted in both greenhouse and farm. Seeds were analyzed with HPLC to compare the amount of thymoquinone after extraction. Results reveal that seed priming with 4% mannitol increases the amount of thymoquinone in Nigella sativa. Also the effect of plant growth hormones on callus regeneration of these primed seeds were investigated.
According to the research reports, this is the first study to investigate the thymoquinone content in Nigella sativa seeds using seed priming.
KEYWORDS
Black cumin

HPLC

Nigella sativa

priming

thymoquinone

tissue culture