Antimicrobial Effect and Antioxidant Activity of Triterpenes Isolated from Gymnema sylvestre R. Br.
Original Article
JOURNAL 1448
---
Records of Natural Products
VOLUME & ISSUE
---
Available Online: January 13,2020
STATISTICS
---
Viewed
39
times.
Downloaded
0
times
GRAPHICAL ABSTRACT
---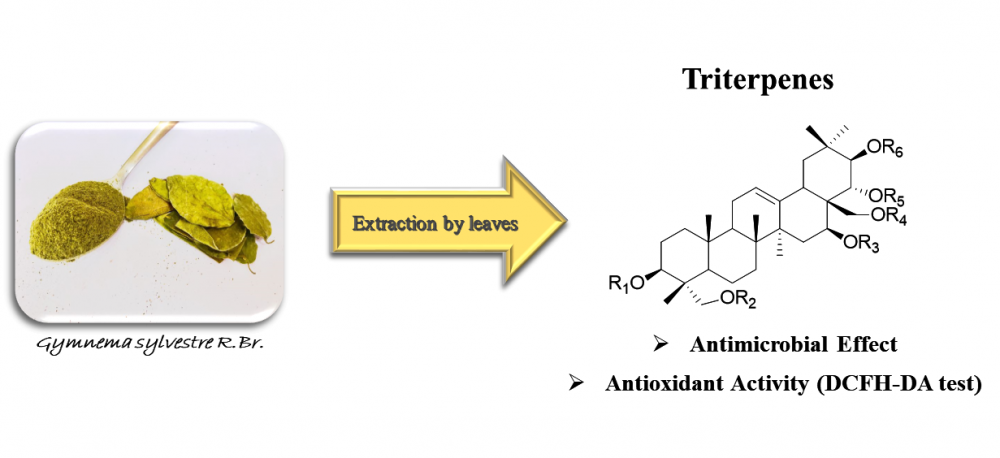 ABSTRACT
---
Gymnema sylvestre is a commonly used herb in Ayurvedic medicine. The demand for its extracts in the commercial and pharmaceutical fields has been steadily increasing in recent years. Its extracts are used to treat various ailments as well as for their antimicrobial properties. This study has evaluated the antimicrobial effects of different G. sylvestre extracts and of eight triterpenes isolated from the most active extract on six bacterial poultry pathogens i.e. Bacillus subtilis, Enterococcus faecalis, Staphylococcus aureus, Pseudomonas aeruginosa, Escherichia coli and Enterobacter aerogenes. In particular, it has been evaluated the minimum inhibitory concentration (MIC) and minimal bactericidal concentration (MBC) of all extracts and isolated triterpenes. Finally, the cytotoxicity activity of triterpenes was evaluated by MTT assay and their antioxidant activity in basal and oxidant conditions by DCFH-DA assay.
KEYWORDS
Gymnema sylvestre

antimicrobial effects

triterpenes

gymnemic acids

herbal drug

DCFH-DA assay
SUPPORTING INFORMATION
---
Supporting Information
Download File 165-RNP-1910-1448-SI.pdf (1.97 MB)