Chemical Composition, Antioxidant and Antimicrobial Activities of Essential Oil from the Leaves of Lindera fragrans Oliv.
Short Report
JOURNAL 1618
---
Records of Natural Products
VOLUME & ISSUE
---
Available Online: July 29,2020
STATISTICS
---
Viewed
55
times.
GRAPHICAL ABSTRACT
---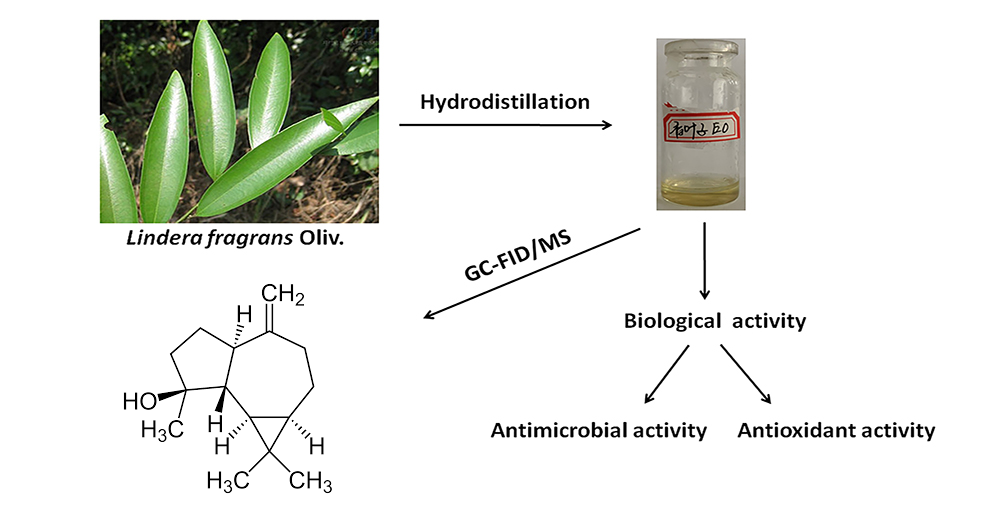 ABSTRACT
---
The chemical composition of the essential oil obtained by hydrodistillation from the leaves of Lindera fragrans Oliv. was determined by gas chromatography (GC) and gas chromatography coupled with mass spectrometry (GC-MS). Sixty two compounds accounting 76.45% of the essential oil were identified. The main constituents found to be spathulenol (27.63%), ledol (6.81%), β-caryophyllene (4.01%), (+)-cis-limonene oxide (3.69%), α-cadinol (3.24%). The disc diffusion method on antimicrobial activities revealed that it has remarkable inhibition effect against Escherichia coli (CP009072.1), Staphylococcus aureus (CP009361.1), Pseudomonas aeruginosa (CP015117.1) and Candida albicans (FJ159643.1). Antioxidant capacity of the essential oil was evaluated by 2,2'-diphenyl-1-picrylhydrazyl (DPPH), 2,2-azino-bis(3-ethylbenzothiazoline-6-sulfonic acid) (ABTS) and β- carotene bleaching assay, and it did not show effective antioxidant activity.
KEYWORDS
Lindera fragrans Oliv.

essential oil

antimicrobial

antioxidant

GC-MS

spathulenol
SUPPORTING INFORMATION
---
Supporting Information
Download File 189-RNP-2004-1618-SI.pdf (518.18 KB)