New Oxoprotoberberine and Aporphine Alkaloids from the Roots of Amoora cucullata with Their Antiproliferative Activites
Original Article
JOURNAL
---
Records of Natural Products
VOLUME & ISSUE
---
Available Online: May 05,2019
STATISTICS
---
Viewed
54
times.
Downloaded
0
times
AUTHORS
---
1 -

2 - Prince of Songkla University

3 - Prince of Songkla University

4 - Prince of Songkla University
PDF OF ARTICLE
ABSTRACT
---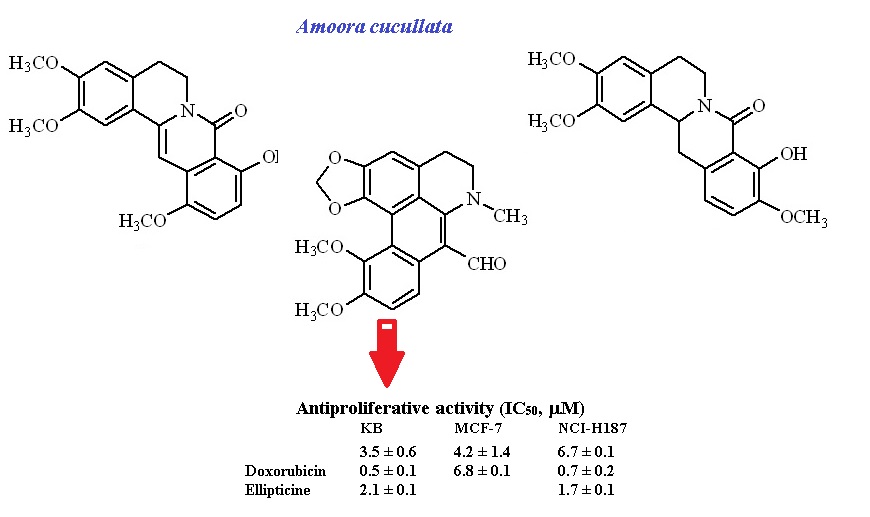 Two new oxoprotoberberine alkaloids, amocurine A and B (1 and 2), a new aporphine alkaloid, amocurine C (3), along with three known compounds (4-6) were isolated from the roots of Amoora cucullata. Their structures were determined by analysis of spectroscopic data. The isolated compounds were evaluated for their antiproliferative activity against three human cancer cell lines (KB, oral cavity; MCF-7, breast cancer; and NCI-H187, small cell lung cancer). Compounds 3 showed the most potent activities against KB and MCF-7 cell lines with IC50 values 3.5 and 4.2 mM, respectively.
KEYWORDS
Oxoprotoberberine

Aporphine

Antiproliferative activity

Amoora cucullata
SUPPORTING INFORMATION
---
Supporting Information
Download File 128-RNP-1902-1181-SI.doc (3.8 MB)