Phytochemistry, Pharmacological Potency, and Potential Toxicity of Myoporum spp.
Review Article
JOURNAL 1833
---
Records of Natural Products
VOLUME & ISSUE
---
Available Online: October 31,2020
STATISTICS
---
Viewed
147
times.
AUTHORS
---
Arafa Musa
PDF OF ARTICLE
GRAPHICAL ABSTRACT
---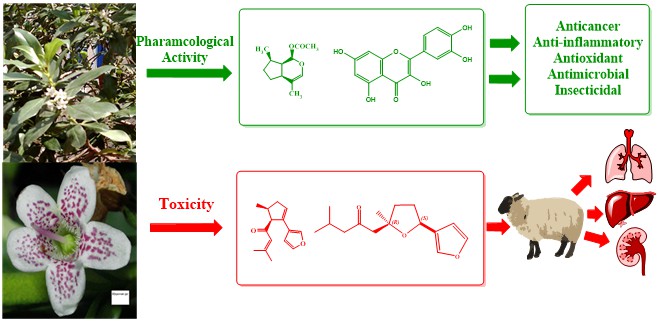 ABSTRACT
---
Abstract: Genus Myoporum family Myoporaceae, includes approximately 32 species of woody small trees or shrubs, most of them are native to Australia and surrounding territories. Only certain species have been thoroughly studied and rich in flavonoids, phenylethanoids, Phenylpropanoids, terpenoids, iridoids, essential oil, and trace alkaloids. The essential oils are characterized by sesquiterpenes type components, either in ketone or alcoholic forms usually combined to a furanoid moiety. Myoporum spp. have been utilized in folk medicine for treatment of various diseases and were used as antidermatitis, antibacterial, antipyretic, anti-pulpitis, antipsychotic, anti-inflammatory, detoxicant, and others. Despite all these benefits, Myoporum spp. must be cautiously employed due to their potential toxicities, which arise from the presence of furanosesquiterpenoid contents, particularly in their essential oil. The toxicity influences liver and can extend to kidney and lung causing injury. The present review aims to explore the phytochemistry, beneficial uses and the toxic potentials of Myoporum spp.
KEYWORDS
Myoporum

Myoporaceae

secondary metabolites

furanosesquiterpenoids

biological activities

toxicity