Seed Oil Extraction of Cucurbita maxima Duchesne Growing in Madagascar: Impact of Storage and Use of a Cineole–Rich Essential Oil as a Green Solvent
Original Article
JOURNAL 2662
---
Records of Agricultural and Food Chemistry
VOLUME & ISSUE
---
Year: 2023 Issue: January-June 1
STATISTICS
---
Viewed
315
times.
GRAPHICAL ABSTRACT
---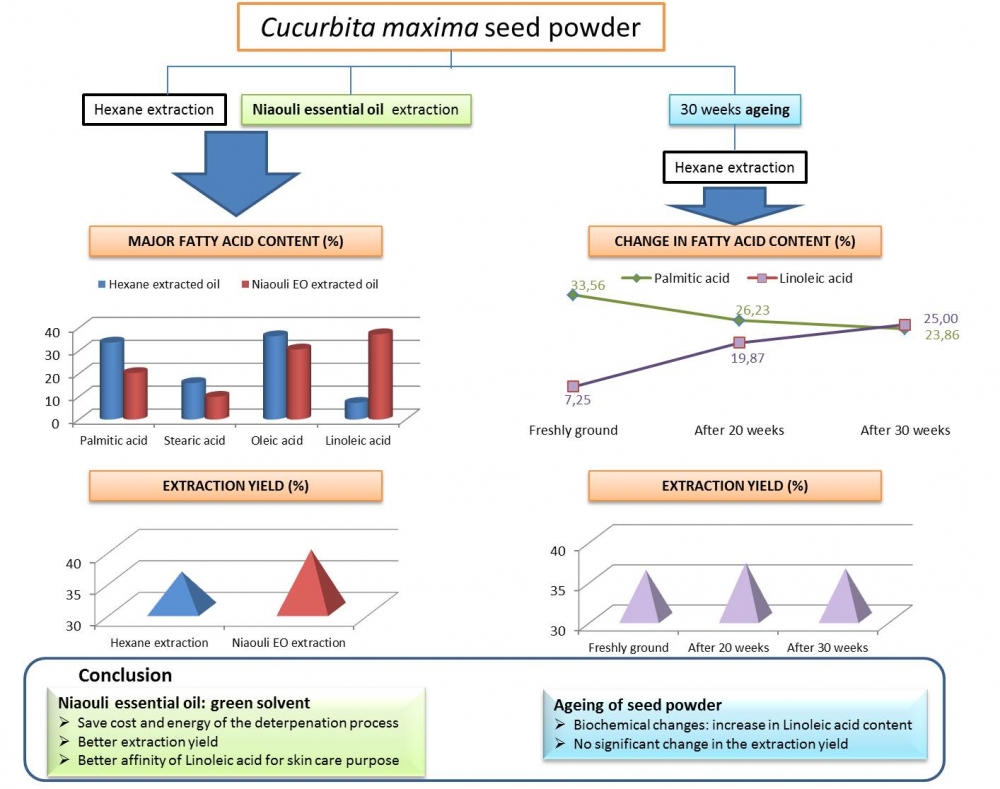 ABSTRACT
---
The performance of a cineole-rich essential oil as an extraction solvent for vegetable oil was studied. This essential oil was obtained from Melaleuca quinquenervia (Cav.) St Blake Myrtaceae, commonly called niaouli, an invasive plant on the eastern coast of Madagascar. The whole essential oil was used without preliminary isolation of terpenes. Experimentation was carried out with Cucurbita maxima Duchesne Cucurbitaceae seeds. The Soxhlet method was used for the oil extraction, and solvent recovery was performed by hydrodistillation. Niaouli essential oil allowed a better extraction yield of 39% compared to hexane, with 36%. The linoleic acid content of the oil was also higher: 37.19% against 7.25% for hexane. After 30 weeks of storage, the seed powder linoleic acid content increased to 44.99% for niaouli oil against 25.00% for hexane oil. With the screw press extraction method, the best yield of 13.00% was obtained with roasting pretreatment while heating at 60°C. However, the best oleic acid content of 45.36% was obtained at 50°C. It was demonstrated that the seed powder underwent biochemical changes during storage which were similar to intracellular catabolic reactions of fatty acids. The high expenses induced by the deterpenation process in terms of cost and energy limit the diffusion and the development of the use of terpenes as alternative solvents. The results of this research support the idea that it is possible to avoid this costly step by directly using the entire essential oil since this can provide a vegetable oil of good quality.
KEYWORDS
Pumpkin seed oil

green solvent

Melaleuca quinquenervia

linoleic acid

skin care
SUPPORTING INFORMATION
---
Technical data about the oils and the niaouli essential oil
This file contains the chromatographic analysis results that support the fatty acid profiles of the extracted oils in this work. The technical data of the niaouli essential oil used as green solvent is also prensented.
Download File Supporting-Information-Template-of-RAFC.docx (5.04 MB)