Polyketides and Alkaloids from the Fungus Penicillium sp.
Short Report
JOURNAL 2593
---
Records of Natural Products
VOLUME & ISSUE
---
Available Online: October 29,2022
STATISTICS
---
Viewed
410
times.
GRAPHICAL ABSTRACT
---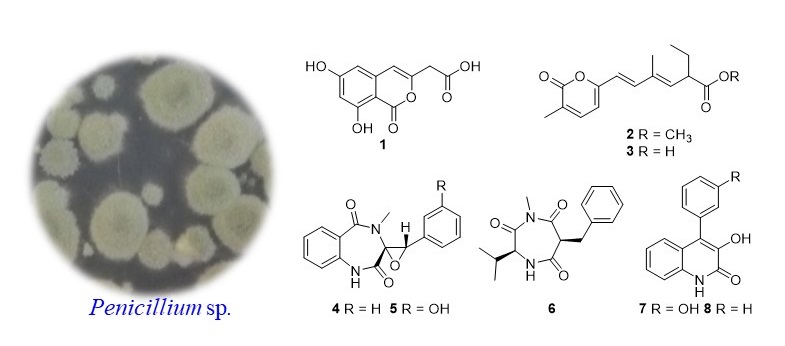 ABSTRACT
---
The marine-derived fungus SCZ-1 was cultured on a rice solid medium. The fermented materials was extracted using ethyl acetate to afford an extract, which was separated by repeated column chromatography to afford three polyketides and five alkaloids, including 2 new polyketides (1 and 2). The known compounds were identified to be penipyrol A (3), cyclopenin (4), cyclopenol (5), terretrione D (6), viridicatol (7), and viridicatin (8). The structures of 1 and 2 were determined by extensive analyses of spectroscopic data (1D and 2D NMR, and HRESIMS). The absolute configuration of 2 was assigned by comparing the experimental and calculated ECD spectra. Compound 1, bearing a two-carbon side chain at C-2, is seldom found among isocoumarins. The metabolites were screened for their inhibitions toward a-glucosidase, only compound 8 showed weak inhibitory effect with an IC50 value of 548 mM.
KEYWORDS
Marine fungus

Penicillium sp.

new polyketides
SUPPORTING INFORMATION
---
Supporting Information
Download File 363-RNP-2210-2593-SI.pdf (2.28 MB)