A New Alkaloid Glycoside from the Stems of Zanthoxylum dissitum Hemsl.
Original Article
JOURNAL 1643
---
Records of Natural Products
VOLUME & ISSUE
---
Available Online: July 30,2020
STATISTICS
---
Viewed
77
times.
GRAPHICAL ABSTRACT
---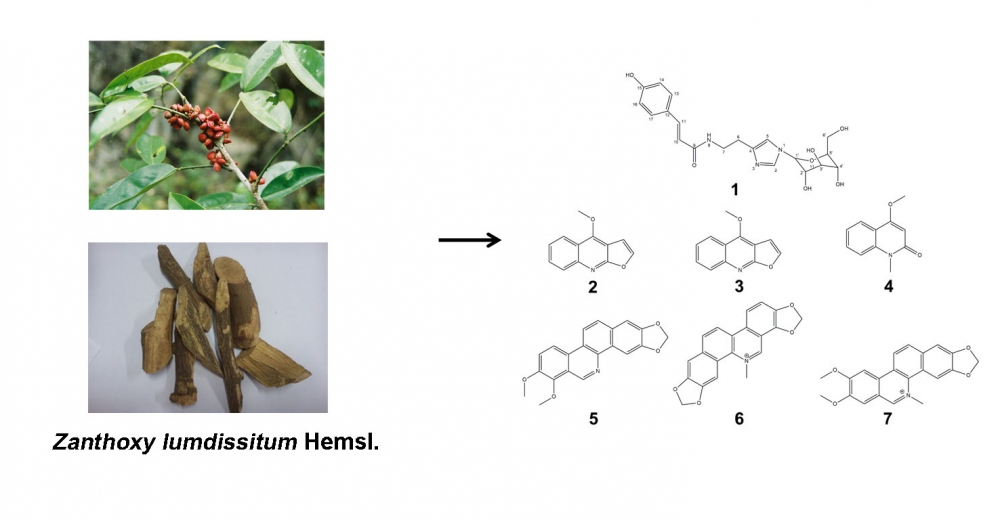 ABSTRACT
---
A new alkaloid glycoside (1) and six known alkaloids (2–7) were isolated from the stems of Zanthoxylum dissitum Hemsl.. The structure of compound 1 was resolved by spectrum data, including MS, IR, UV, and MS. All compounds obtained in this research were evaluated for their inhibitions against NO release from LPS-activated RAW264.7 macrophages. Compounds 1-3, 6 and 7 showed significant inhibition activities with IC50 values of 26.12±0.81, 8.41±0.23, 13.75±0.54, 6.97±0.77, and 5.78±0.42 μM, respectively.
KEYWORDS
Zanthoxylum dissitum Hemsl.

alkaloid

macrophages

NO
SUPPORTING INFORMATION
---
Scifinder new compound search report
Download File Scifinder new compound search report.pdf (11.62 KB)
Supporting Information
Download File 191-RNP-2005-1643-SI.pdf (1.95 MB)