Organic Communications
EISSN: 1307-6175
A scientific open acces journal in the field of synthetic organic chemistry and polymers
Organic Communications
A scientific open acces journal in the field of synthetic organic chemistry and polymers
LATEST ARTICLES
Original Article
Piperidine-functionalized Fe3O4 Supported Graphene Quantum dots as an Efficient Catalyst for the Synthesis of 2-Aminochromenes under Solvent-free Conditions
Org. Commun. (2019) in press ; 1 - 12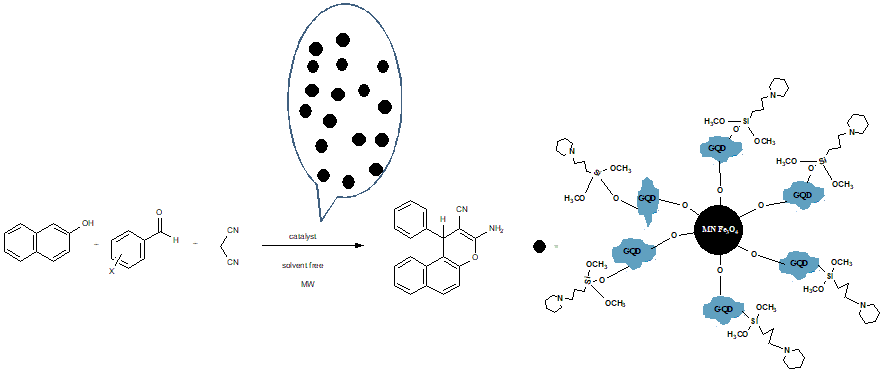 Fe3O4 supported graphene quantum dots (GQDs) (Fe3O4@GQDs) was prepared under microwave irradiation. Piperidine was bound to Fe3O4@GQDs via its reaction with 3-piperidinopropyltrimethoxysilane and piperidine-functionalized Lewis basic nano-catalyst (Fe3O4@GQDs-Pip) was prepared. This freshly prepared catalyst was evaluated as a heterogeneous magnetic reusable catalyst for the one-pot synthesis of 2-aminochromenes under MW-assisted solvent-free conditions. Two composite particles, Fe3O4@GQDs and Fe3O4@GQDs-Pip were characterized by FT-IR, XRD, SEM, TGA and VSM analytical methods. The catalyst could be easily recovered by magnetic separation and recycled for 5 times without significant loss of its catalytic activity.
DOI
http://doi.org/10.25135/acg.oc.52.18.11.1070
(DOI number will be activated after the manuscript has been available in an issue.)
Keywords
Heterogeneous nano-catalyst;
Chromene;
Magnetic graphene quantum dots;
Piperidine.
Available online: February 13, 2019
DETAILS
DOWNLOAD PDF
© ACG Publications. All rights reserved.