Journal of Chemical Metrology
Journal of Chemical Metrology
EISSN: 1307-6183
A scientific open access journal in the field of analytical chemistry and accreditation
Journal of Chemical Metrology
A scientific open access journal in the field of analytical chemistry and accreditation
LATEST ARTICLES
Original Article
Effect of priming on thymoquinone content and in vitro plant regeneration with tissue culture of black cumin (Nigella sativa L.) seeds
J. Chem. Metrol. (2018) in press ; 1 - 10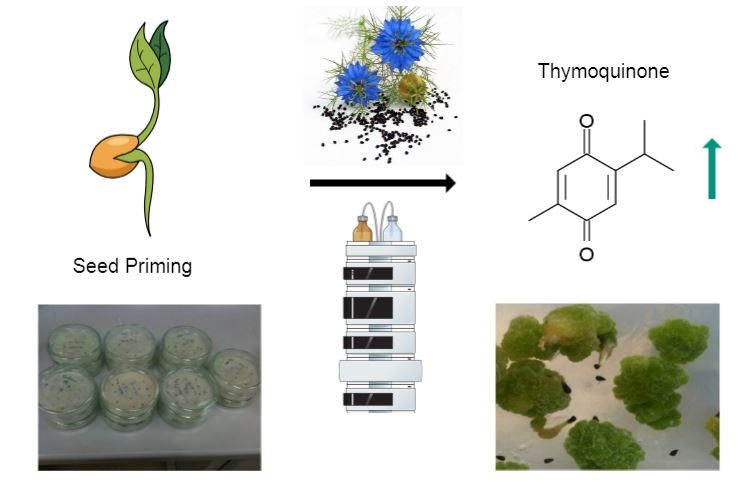 The aim of this study is to analyze the changes on thymoquinone content, which is the major constituent of black cumin (Nigella sativa L.) seeds, by using priming methods. For the priming studies, seeds placed in distilled water (18 - 20 hours), PEG (Polyethylene glycol 10%, 20%) and mannitol (4% and 6%) for 20 hours and subsequently dried for 24 hours on blotting paper at room temperature (24 ºC ± 1 ºC). The best priming results were obtained in the 4% of mannitol treatment. Control (not primed) Nigella seeds and 4% of mannitol primed seeds were planted in both greenhouse and farm conditions. Seed extracts were analyzed with HPLC to compare the amount of thymoquinone. The results reveal that seed priming with 4% of mannitol increases the amount of thymoquinone in Nigella sativa. In addition, the effects of plant growth hormones on callus regeneration of these primed seeds were investigated herein.
DOI
http://doi.org/10.25135/jcm.18.18.09.950
(DOI number will be activated after the manuscript has been available in an issue.)
Keywords
Black cumin
HPLC
Nigella sativa
priming
thymoquinone
tissue culture
Available online: November 28, 2018
DETAILS
DOWNLOAD PDF
© ACG Publications. All rights reserved.