Journal of Chemical Metrology Articles
Articles In Press
Journal of Chemical Metrology
Articles In Press
Short Report
1) High performance liquid chromatographic analysis of lercanidipine in human breast milk
J. Chem. Metrol. (2019) in press ; 1 - 6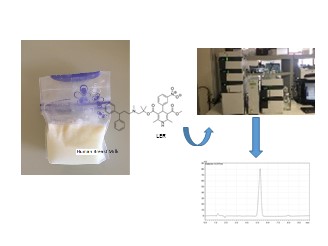 A simple, rapid, precise and accurate isocratic reversed phase HPLC method was developed and validated for the determination of lercanidipine hydrochloride in pharmaceutical tablets and spiked human breast milk. The chromatographic separation was achieved on C18 (250×4.6 mm×5µm) column using a mobile phase consisting of acetonitrile and phospate buffer (pH=4) (55:45, v/v) at a flow rate of 1.1 mL/min and UV detection at 237 nm. The linearity of the proposed method was investigated in the range of 1.0-40 μg/mL (r2=0.9990). The method was validated in terms of accuracy, precision, reproducibility, specificity, robustness, and detection and quantification limits, in accordance with ICH guidelines. The proposed method is found as suitable for routine quantification of lercanidipine in human breast milk.
DOI
http://doi.org/10.25135/jcm.23.19.03.1223
(DOI number will be activated after the manuscript has been available in an issue.)
Keywords
Antihypertensive
Lercanidipine hydrochloride
HPLC-UV
Human breast milk
Method validation
Available online: April 29, 2019
DETAILS
DOWNLOAD PDF
© ACG Publications. All rights reserved.