Chemical Composition and Biological Activities of the Essential Oil from Aristolochia fordiana Hemsl
Original Article
JOURNAL
---
Records of Natural Products
VOLUME & ISSUE
---
Available Online: November 28,2018
STATISTICS
---
Viewed
345
times.
Downloaded
9
times
AUTHORS
---
1 - shandong university

2 - Shandong University

3 - Shandong University

4 - Shandong University

5 - Shandong University

6 - Shandong University
PDF OF ARTICLE
ABSTRACT
---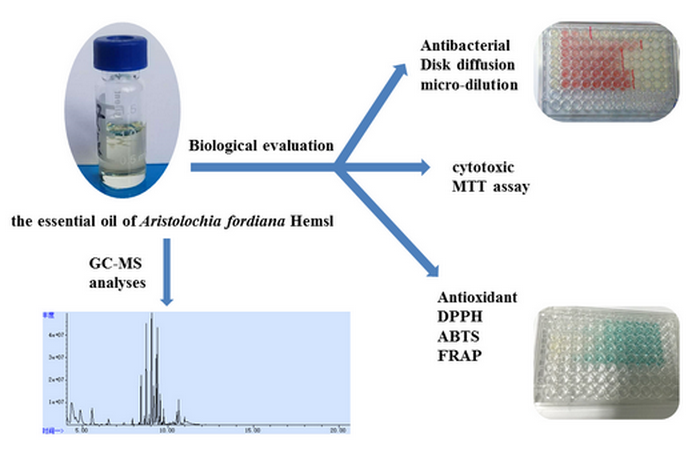 Abstract: The present study investigated the chemical composition of the essential oil obtained from the aerial parts of Aristolochia fordiana Hemsl (AF-EO) using GC-FID and GC-MS, and evaluated the in vitro biological activities of the essential oil. Forty-nine compounds representing 99.6% of the total oil were characterized. The main constituents were identified as β-chamigrene (17.0%), β-caryophyllene (11.1%), α-bulnesene (11.0%) and β-pinene (10.2%). Furthermore, the antibacterial activity of the essential oil of A. fordiana was studied using disc diffusion and micro-broth dilution assays. AF-EO exhibited a significant antibacterial activity against Staphylococcus aureus and Bacillus subtilis with MIC values below 100 μg/mL. Besides, the results of MTT assays indicated that the essential oil exhibited a moderate cytotoxic activity on HepG2 (liver hepatocellular cells) and MCF-7 (human breast adenocarcinoma cells) cell lines. However, the AF-EO showed a weak antioxidant activity in DPPH•, ABTS•+ and FRAP assays.
KEYWORDS
Aristolochia fordiana Hemsl

essential oil

antibacterial activity

cytotoxic activity

antioxidant activity