Two New Lignans from Lycopodium japonicum Thunb.
Original Article
JOURNAL
---
Records of Natural Products
VOLUME & ISSUE
---
Available Online: April 29,2019
STATISTICS
---
Viewed
199
times.
Downloaded
0
times
ABSTRACT
---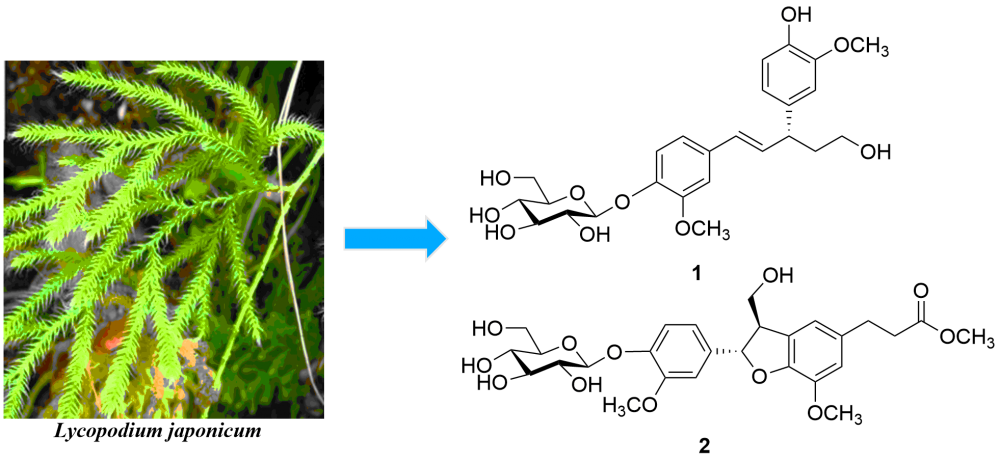 Two new lignans, named lycojaponicumoside A (1) and B (2), together with four known compounds (3˗6) were isolated from the n-BuOH extract of Lycopodium japonicum. Their structures were elucidated on the basis of extensive spectroscopic methods, especially various NMR techniques, HRESIMS and circular dichroism (CD). The absolute configuration of compound 1 was established by the calculation of electronic circular dichroism (ECD) curves. All of the compounds were evaluated for their cytotoxic activities against A549 and HepG2 human cancer cell lines, but those compounds did not exhibit cytotoxicity.
KEYWORDS
Lycopodium japonicum

lignans

ECD calculation
SUPPORTING INFORMATION
---
Supporting Information
Download File 126-RNP-1903-1205-SI.pdf (1.65 MB)