Chemical Composition and Biological Activity of Ixiolirion tataricum (Pall.) Schult. & Schult.f. var. tataricum.
Original Article
JOURNAL 2301
---
Records of Agricultural and Food Chemistry
VOLUME & ISSUE
---
Year: 2021 Issue: 1-2 January-December
STATISTICS
---
Viewed
243
times.
GRAPHICAL ABSTRACT
---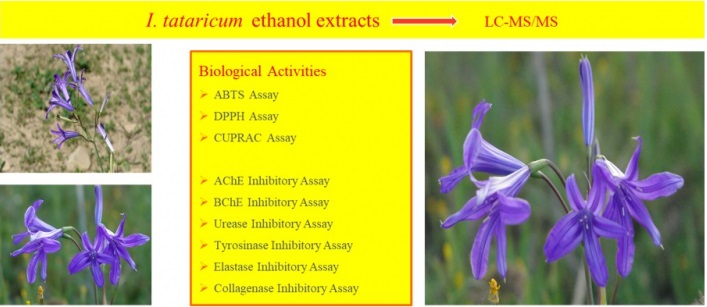 ABSTRACT
---
The role of plants in human life and the importance of plants in the food, drug and cosmetics industry have been increasing nowadays. This study investigates biological and chemical properties of root, branch, leaf, flower and aerial ethanol extracts of Ixiolirion tataricum (Pall.) Schult. & Schult. f. var. tataricum species, consumed as food in the population. The chemical composition of the species has been determined by the LC-MS/MS by specifying total phenolic and flavonoid contents. Antioxidant activity, cholinesterase, urease, tyrosinase, elastase and collagenase inhibitory activities have also been studied. According to the results of LC-MS/MS, quinic acid, protocatechuic acid, p-coumaric acid, and rutin have been detected. The branch ethanol extract contained higher amounts of quininic acid (12.101 µg analyte/g extract) than extracts of leaves, flowers, roots and aerial parts. On the other hand, the leaves ethanol extract exhibited high antioxidant activity in all tests (ABTS: IC50= 57.47±0.86 µg/mL, CUPRAC: A0.5= 66.76±1.86, DPPH: IC50: 119.2±1.52). The species has the potential to be used in the food industry due to its high antioxidant capacity.
KEYWORDS
Ixiolirion tataricum

LC-MS

antioxidant

enzyme activities

collagenase

elastase