A New Iridoid Glycoside Isolated from Valeriana officinalis L.
Short Report
JOURNAL 2145
---
Records of Natural Products
VOLUME & ISSUE
---
Available Online: October 25,2021
STATISTICS
---
Viewed
155
times.
GRAPHICAL ABSTRACT
---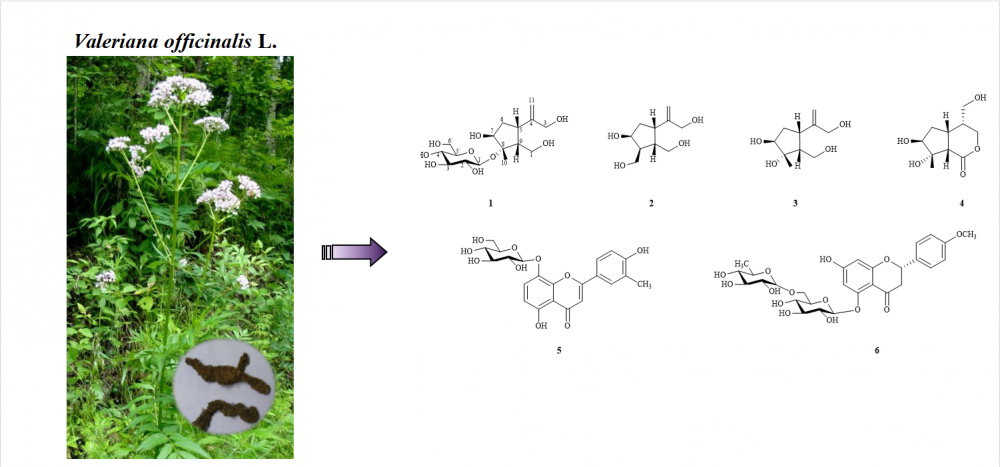 ABSTRACT
---
A new iridoid glycoside, (5S,7S,8S,9R)-7- hydroxy-∆4,11-dihyronepeta-1,3-diol-8-O-β-D-glucopyranosyl (1), along with 5 known compounds, dioscoridin A (2), jatamanin J (3), longiflorone (4), apigenin-8-O-β-D-glucopyranoside (5), isosakuranetin-5-O-rutinoside (6), were isolated from the Valeriana officinalis L. Their structures were determined by extensive analysis using various spectroscopic techniques. Moreover, the cytotoxic activity assay toward three human tumor cell (A549, HCT116 and SW620) lines were evaluated by the MTT method in vitro for compounds 1-2, using cisplatin as positive control. Experimental results showed that these compounds displayed weak cytotoxicity in the human cancer cell lines. Notably, compounds 2, 3 and 6 were firstly isolated from this plant, compound 4 was isolated from the genus Valeriana for the first time, compound 5 was isolated for the first time from Valerianaceae family.
KEYWORDS
Iridoids

Valeriana officinalis L.

Valerianaceae

cytotoxicity
SUPPORTING INFORMATION
---
Supporting Information
Download File 283-RNP-2107-2145-SI.pdf (3.06 MB)