New Selective Human MAO-B Inhibitors from the Stems of Erythrina corallodendron L.
Original Article
JOURNAL 1940
---
Records of Natural Products
VOLUME & ISSUE
---
Available Online: March 14,2021
STATISTICS
---
Viewed
108
times.
GRAPHICAL ABSTRACT
---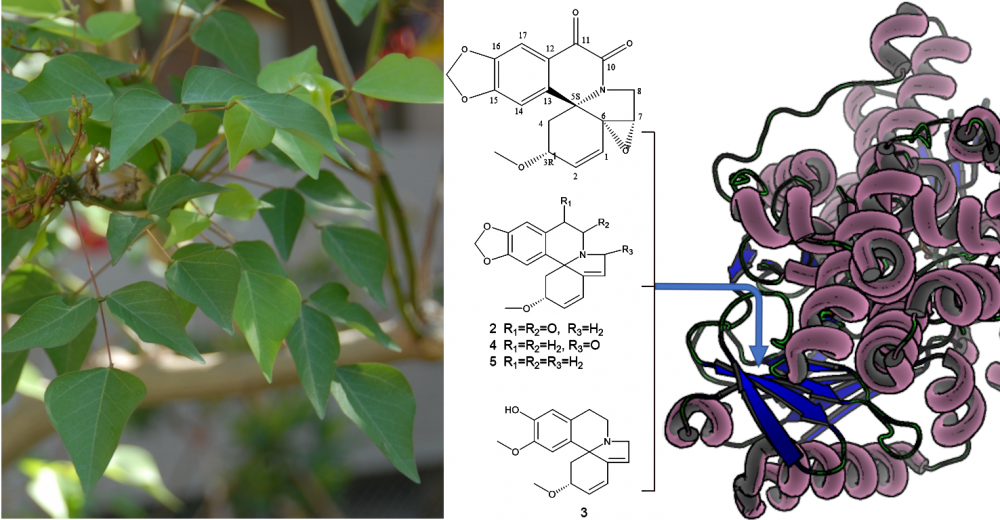 ABSTRACT
---
One new, 10, 11-dioxo-6,7α-erythraline epoxide (A1) and four known erythrinan alkaloids 10, 11-dioxo-erythraline (A2), erysodine (A3), 8-oxo-erythraline (A4) and erythraline (A5) were isolated from the 70% methanolic extract of stems of E. Corallodendron (Fabaceae). The isolated compounds were elucidated by exploiting 1D/2D NMR, and HR-ESI-MS analysis. The absolute configuration of A1 was determined by electronic circular dichroism (ECD). Mono Amine Oxidase inhibitory activity of the isolated alkaloids was investigated in vitro using kynuramine deamination assay on recombinant human MAO-A and B enzymes. The binding modes were predicted by molecular docking and the structure activity relationships of erythrinans were then evaluated. All isolated alkaloids demonstrated preferential activity against MAO-B. A1 displayed the highest potency and selectivity against MAO-B with IC50 of 25.18 μM, (SI >3.97). The selective inhibition exhibited by erythrinan alkaloids against MAO-B is in line with the expected biological impact of Erythrina in the treatment of neurodegenerative diseases and presents this chemical class as promising leads for managing AD and PD diseases.
KEYWORDS
Erythrina corallodendron

alkaloids

Alzheimer's disease

Parkinson's disease

selective MAO-B inhibitors

docking
SUPPORTING INFORMATION
---
Scifinder report
Download File Substance_20210216_1811.pdf (75.51 KB)
Supporting Information
Download File 229-RNP-2101-1940-SI.pdf (3.18 MB)