Piperidine-functionalized Fe3O4 supported graphene quantum dots as an efficient catalyst for the synthesis of 2-aminochromenes under solvent-free conditions
Original Article
JOURNAL 1070
---
Organic Communications
VOLUME & ISSUE
---
Year: 2019 Issue: 1 January-March
STATISTICS
---
Viewed
445
times.
Downloaded
0
times
GRAPHICAL ABSTRACT
---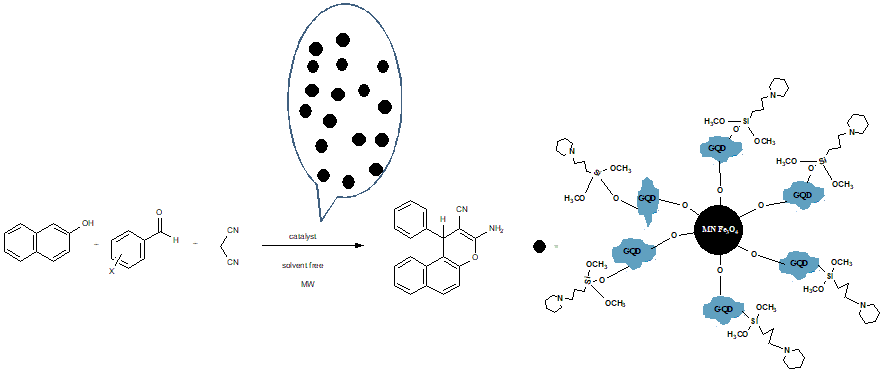 ABSTRACT
---
Fe3O4 supported graphene quantum dots (GQDs) (Fe3O4@GQDs) was prepared under microwave irradiation. Piperidine was bound to Fe3O4@GQDs via its reaction with 3-piperidinopropyltrimethoxysilane and piperidine-functionalized Lewis basic nano-catalyst (Fe3O4@GQDs-Pip) was prepared. This freshly prepared catalyst was evaluated as a heterogeneous magnetic reusable catalyst for the one-pot synthesis of 2-aminochromenes under MW-assisted solvent-free conditions. Two composite particles, Fe3O4@GQDs and Fe3O4@GQDs-Pip were characterized by FT-IR, XRD, SEM, TGA and VSM analytical methods. The catalyst could be easily recovered by magnetic separation and recycled for 5 times without significant loss of its catalytic activity.
KEYWORDS
Heterogeneous nano-catalyst;

chromene;

magnetic graphene quantum dots;

piperidine.
SUPPORTING INFORMATION
---
Supporting Information
Download File 3-52-OC-1811-1070-SI.pdf (564.81 KB)