Bioorganic and Medicinal Chemistry Reports Articles
EISSN: 2667-6028
Issue: 1 January-June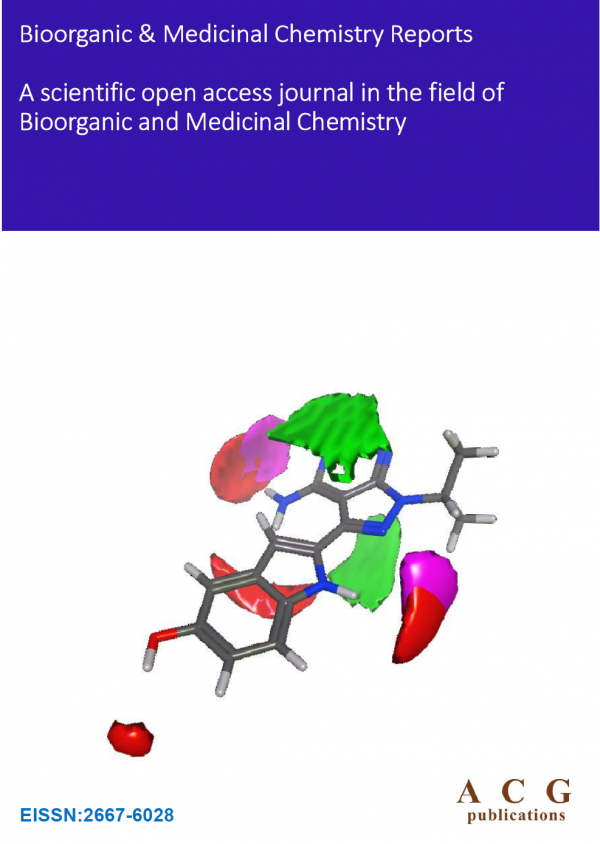 DOWNLOAD PDF
Bioorganic and Medicinal Chemistry Reports
Year: 2021 Volume: 4 Issue:1 January-June
Original Article
1) Antibacterial activity of some 1,2,3,4-tetrasubstituted pyrrole derivatives and molecular docking studies
Bioorg. Med. Chem. Rep. (2021) 4:1 ; 1 - 9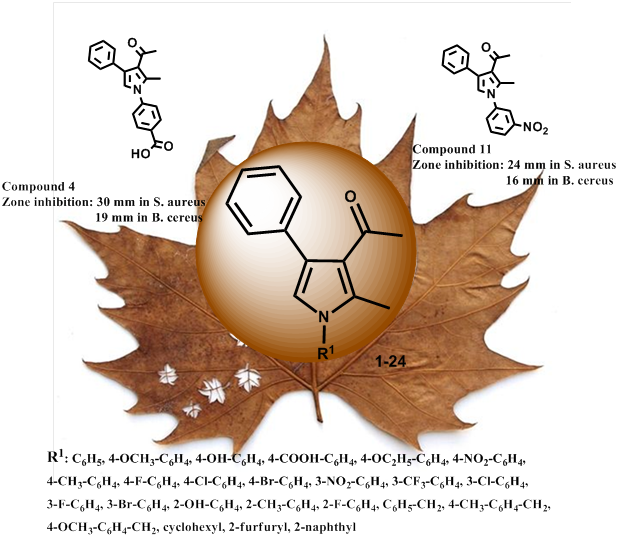 Pyrrole compounds are important classes of heterocycle compounds in the search for effective agents against multidrug-resistant bacterial infections. With an approach to reduce the growing bacterial resistance and to discover more active antibacterial agents with fewer side effects, the previously synthesized 1,2,3,4-tetrasubstituted pyrrole derivatives were screened for their in vitro antibacterial activity by disc diffusion method against some gram-positive and gram-negative bacteria, for the first time. The results indicated that compounds 4, 11, and 12 showed promising antibacterial activity against gram-positive S. aureus and B. cereus bacteria equal or more than standard as tetracycline. Molecular docking studies were employed both to explain the activity results of the more active compounds at the level of protein-ligand interactions and to compare the interactions of these compounds with the interactions of tetracycline. The relationship between structure and antibacterial activity was also discussed.
DOI
http://doi.org/10.25135/acg.bmcr.24.21.03.1999
Keywords
Antibacterial activity
1,2,3,4-Tetrasubstituted pyrroles
tetracycline
disc diffusion method
molecular docking
DETAILS
PDF OF ARTICLE
© 2021 ACG Publications. All rights reserved.
Original Article
2) In vitro antiproliferative activity of some fluoro-substituted benzimidazole-based scaffolds
Bioorg. Med. Chem. Rep. (2021) 4:1 ; 10 - 17

In the present work, a series of fluoro-substituted benzimidazole derivatives were designed and synthesized as antiproliferative agents. The antiproliferative activity of these compounds was investigated using MTT assay. Fluoro-substituted benzimidazole derivatives showed significant antiproliferative activity against all the tested cancer cell lines. All the derivatives were found to be less toxic as compared to methotrexate (positive control) in human cells, indicating selective and efficient antiproliferative activity of these benzimidazole derivatives. These findings suggest that compounds ORT14 and ORT15 among this series are most effective and have potential for detailed investigations.
DOI
http://doi.org/10.25135/acg.bmcr.25.21.05.2065
Keywords
Benzimidazole
fluorine
antiproliferative
anticancer
SAR
DETAILS
PDF OF ARTICLE
© 2021 ACG Publications. All rights reserved.