Bioorganic and Medicinal Chemistry Reports Articles
EISSN: 2667-6028
Issue: 1 January-June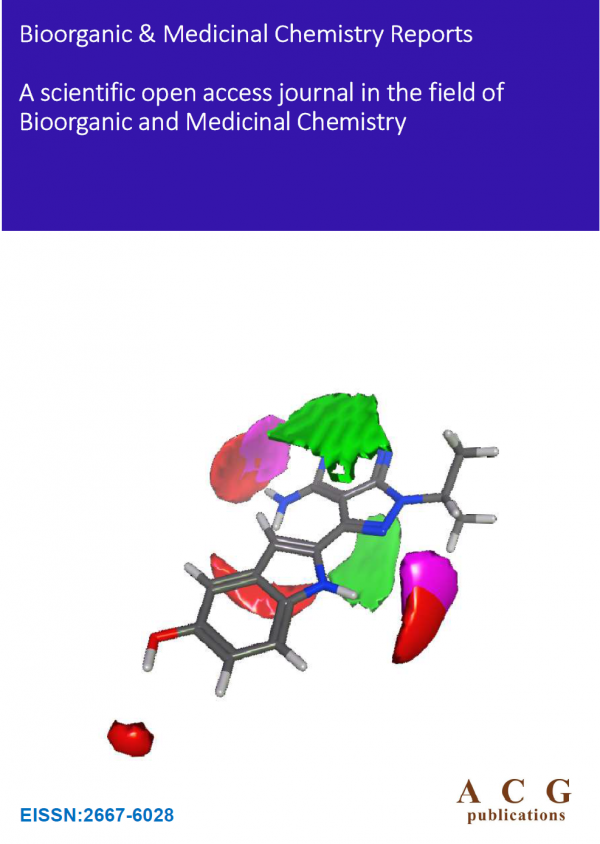 DOWNLOAD PDF
Bioorganic and Medicinal Chemistry Reports
Year: 2022 Volume: 5 Issue:1 January-June
Original Article
1) Cytotoxic activity evaluation of naphthalene substituted benzimidazole derivatives
Bioorg. Med. Chem. Rep. (2022) 5:1 ; 1 - 8

Compounds bearing naphthalene and benzimidazole pharmacophores have been reported to possess excellent anticancer activity. In view of this, we designed, synthesized and characterized a series of naphthalene substituted benzimidazole derivatives (11–19), and further evaluated them for antiproliferative activities by employing MTT method. Among the nine investigated molecules, compounds (11 and 13) showed good antiproliferation of the tested cancer cell lines with IC50 values ranging from 0.078 to 0.625 µM. In addition, compound (18) exhibited selective cytotoxicity against HepG2 cell lines with high safety to normal cell (HEK293). Furthermore, cytotoxicity studies of these compounds against normal Human embryonic kidney cells (HEK293) revealed that the target molecules were less selective against HEK293 as compared to methotrexate (positive control). The high potency and selective cytotoxicity suggested that compound 18 could be a starting point for further optimization to develop novel antitumor agents towards liver cancer.
DOI
http://doi.org/10.25135/acg.bmcr..28.2201.2322
Keywords
Benzimidazole
naphthalene
anticancer
liver cancer
DETAILS
PDF OF ARTICLE
© 2022 ACG Publications. All rights reserved.
Original Article
2) Determination of Lidocaine HCl in commercially cream and injection forms by GC-FID method
Bioorg. Med. Chem. Rep. (2022) 5:1 ; 9 - 19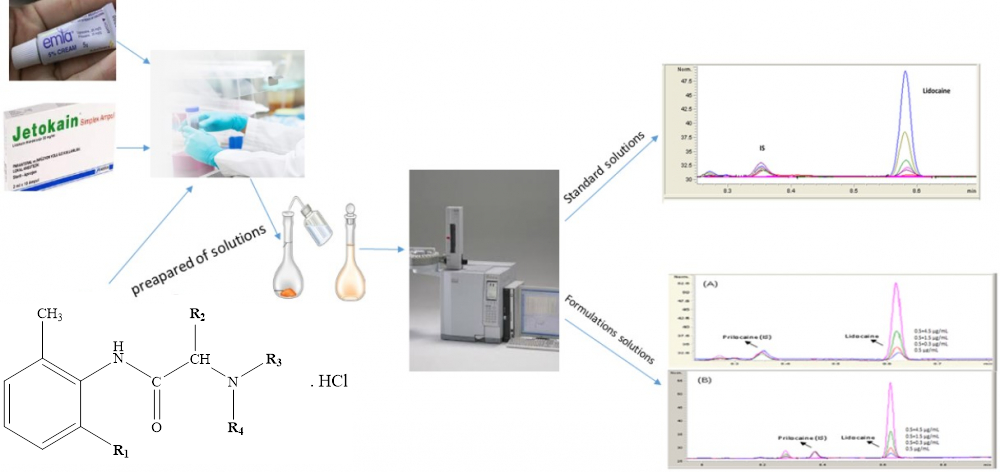 In the present study, GC-FID method for the determination of lidocaine HCl in commercially creams and injection forms was developed and validated. The linearity of method was observed in the concentration range of 0.1-5.0 µg/mL. The accuracy (RE%) and precision (RSD%) values of the within-day and between-day of GC-FID method are less than 10.0% and 3.0%, respectively, and also limit of detection (LOD) and the limit of quantitation (LOQ) values were observed as 0.03 and 0.11 µg/mL, respectively. The analytical recovery value of lidocaine HCl was determined as 99.47% on average. As a result, it was concluded that the developed and validated GC-FID method can be easily used in routine analyzes in quality control laboratories.
DOI
http://doi.org/10.25135/bmcr.27.2204.2418
Keywords
Lidocaine HCl
local anesthesia
cream
injection
GC-FID Method
DETAILS
PDF OF ARTICLE
© 2022 ACG Publications. All rights reserved.