Journal of Chemical Metrology Articles
EISSN: 1307-6183
Issue: 2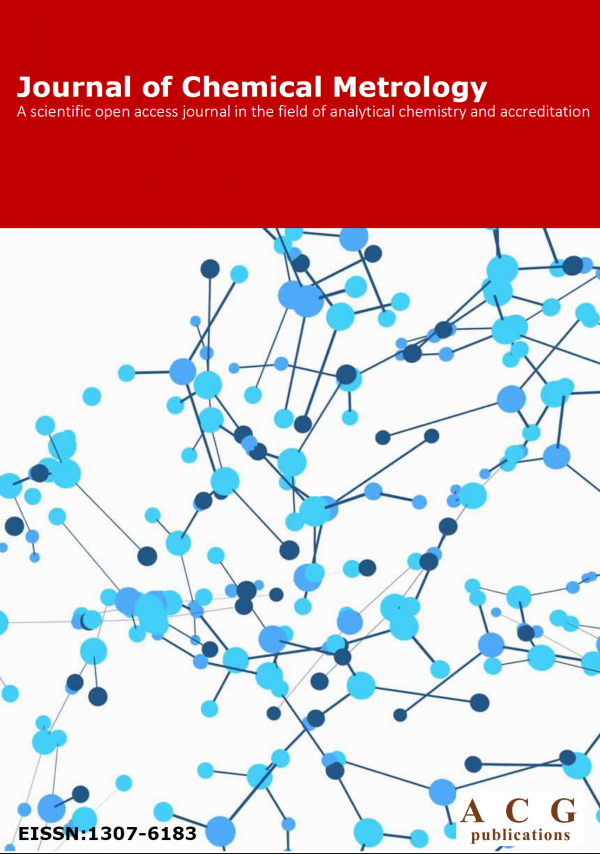 DOWNLOAD PDF
Journal of Chemical Metrology
Year: 2016 Volume: 10 Issue:2
Original Article
1) Sucrose certified reference material - UME CRM 1309 d 13 C VPDB value assignment by EA-IRMS
J. Chem. Metrol. (2016) 10:2 ; 16 - 26
by Adnan Şimşek, Ahmet C Gören, Alper İşleyen and , Kevser Topal
A certified reference material (UME CRM 1309) of sucrose for carbon isotope ratio: d 13 C VPDB (‰) value was produced according to the requirements of the ISO Guide 34:2009. The certified value with uncertainty was determined as -26.78 ± 0.81 ‰ (at k=2) by Elemental Analyzer Isotope Ratio Mass Spectrometry (EA-IRMS) method. Production and the certification processes include material processing, homogeneity study, stability studies (short-term and long-term), characterization study, statistical data evaluation and assignment of the property value and uncertainty. The d 13 C VPDB certified value of sucrose was determined by an inter-laboratory comparison study among a network of seven competent laboratories.
Keywords
CRM
EA-IRMS
homogeneity
stability
characterization
assigned value
uncertainty
DETAILS
PDF OF ARTICLE
© 2016 ACG Publications. All rights reserved.
Original Article
2) Residual thiosulfate determination in omeprazole by liquid chromatography
J. Chem. Metrol. (2016) 10:2 ; 27 - 31
by Mehmet Altun, Duran Karakaş and Gökhan Bilsel
An HPLC-UV method for the determination of thiosulfate in aqueous media was modified and validated in this study to quantify the amount of residual thiosulfate in omeprazole samples. Absorption of thiosulfate ion was monitored at 215 nm in alcoholic tetrabutylammonium hydroxide solution as a mobile phase, in which the pH was adjusted to 6.20 by using dilute hydrochloric acid. A method detection limit of 0.08 mg/L was achieved for thiosulfate ion in 1000 mg/L omeprazole solution. The precision, accuracy, and the expanded uncertainty of the method were 2.7 %, 92.4-102.6 %, and 2.2 % (at 95 % confidence level (k = 2) assuming 1.0 mg/L thiosulfate in the sample solution), respectively.
Keywords
HPLC-UV
omeprazole
residual thiosulfate
method validation
DETAILS
PDF OF ARTICLE
© 2016 ACG Publications. All rights reserved.