Journal of Chemical Metrology Articles
EISSN: 1307-6183
Issue: 1 January-June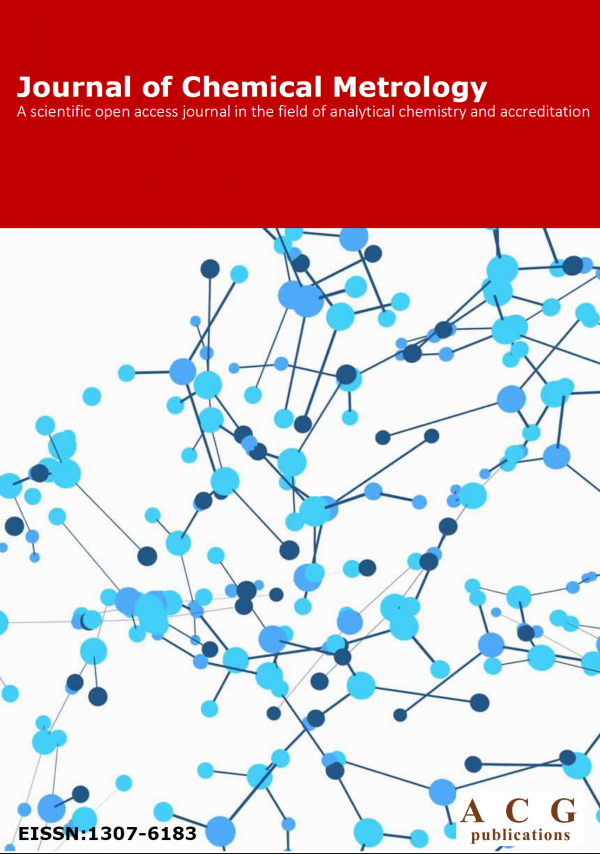 DOWNLOAD PDF
Journal of Chemical Metrology
Year: 2018 Volume: 12 Issue: 1 January-June
Discussion Article
1) The Consultative Committee for Metrology in Chemistry and Biology – CCQM
J. Chem. Metrol. (2018) 12: ; 1 - 16
by Robert Kaarls
Reliable, correct results of chemical measurements and analysis, with a measurement uncertainty statement fit for its purpose, are highly important for drawing the right conclusions and making the right decisions. Addressing the complex parameters influencing climate change, the consequences of unsafe food, the costly clinical diagnostics and the health effects of expensive pharmaceuticals, as well as addressing the need for new sustainable energy sources and fair trade, require accurate measurements. In 1993, by decision of the International Committee for Weights and Measures (CIPM), being the directive and supervisory body under the inter-governmental treaty, known as the "Metre Convention" and signed in 1875 with the aim of establishing and maintaining a global measurement system, the scientific Consultative Committee for Metrology in Chemistry and Biology (CCQM) was created. The CCQM is charged to establish global comparability of chemical and biological measurements and analysis through metrological traceability to the International System of Units, the SI, and very well defined pure reference materials and (primary) measurement methods and procedures. The article describes in short in which context the CCQM started and developed, how it is currently organized, what it has achieved and which priorities are being set in addressing the most important chemical and biological measurement issues in the near and medium term future.
DOI
http://doi.org/10.25135/jcm.11.17.12.060
Keywords
CCQM
BIPM
CIPM
metrology in chemistry and biology
DETAILS
PDF OF ARTICLE
© 2018 ACG Publications. All rights reserved.
Original Article
2) Rapid and reliable 25-OH vitamin D2 and 25-OH vitamin D3 measurements by multitasker LC-MS/MS
J. Chem. Metrol. (2018) 12: ; 17 - 25
by Ahmet C Gören, Gözde Şahin, İsmail Gümilcineli and Burcu Binici
The 25-OH Vitamin D2 and 25-OH Vitamin D3 measurement method was validated using a Zivak Multitasker Fully Automated Sample Preparation and Injection System coupled to a MS detector. The current method incorporates all sample preparations, SPE clean up procedures, LC and MS facilities into an all in one system. This system can report patient data within 6 minutes including the SPE and Sample preparation and mass spectrometry analysis time. The correlation coefficient of the developed method was greater than 0.99 for measurands, 25-OH-vitamin Ds, in the calibration range. The measurement uncertainty of the measurements were evaluated and found as 7.7 % and 7.6 % for 25-OH vitamin D2 and 25-OH-vitamin D3, respectively.
DOI
http://doi.org/10.25135/jcm.13.18.02.070
Keywords
25-OH Vitamin D2
25-OH Vitamin D3
MS/MS
ZİVAK multitasker
method validation
uncertainty
DETAILS
PDF OF ARTICLE
© 2018 ACG Publications. All rights reserved.
Original Article
3) Determination of taxanes by validated LC-MS/MS method in hazelnut collected from different regions and altitudes in Turkey
J. Chem. Metrol. (2018) 12: ; 26 - 33
by Sibel Bayıl Oguzkan, Bora Karagul, Elif Sine Aksoy, Ayşe Uzun, Merve Can, Hasibe Yilmaz, Halil Ibrahim Ugras, Burcu Binici and Ahmet C Goren
In this study, mass fractions of paclitaxel, cephalomannine, 10-DAB III and baccatin III in hazelnut were measured with new and validated LC-MS/MS method. Green outer nut husk and nutshell of Turkish hazelnut (Corylus colurna L.) were collected from Düzce, Trabzon, Adapazarı and Samsun at several altitudes during August and September in 2014. The target analytes were prepared using solid-liquid extraction and analysed by LC-MS/MS. High amount of baccatin III, used for synthesizing semi-synthetic paclitaxel, was found in the nutshells collected at 250-500 m altitude in Cumayeri district of Duzce. In the husk samples from Vakfıkebir district of Trabzon, the highest amount of baccatin III was obtained. The mass fractions of baccatin III in nutshell and husks were between 164.38-1020.85 μgkg-1 and 166.12-923.64 μgkg-1, respectively.
DOI
http://doi.org/10.25135/jcm.16.18.03.082
Keywords
Taxanes
baccatin III
hazelnut
LC-MS/MS
method validation
DETAILS
PDF OF ARTICLE
© 2018 ACG Publications. All rights reserved.
Original Article
4) Study the effect of different dyeing conditions of extracted natural dye from leaves of neem on silk fabrics
J. Chem. Metrol. (2018) 12: ; 34 - 58
by Nabawia A. Abdel-Zaher, Manal T.H. Moselhey and Osiris W. Guirguis
The aim of the present work was to evaluate the effect of artificial day light for 160 h on silk fabrics dyeing with different conditions such as; different dye bath pH values, different dyeing temperatures, and different dyeing times; of extracted natural dye from Azadirachta indica (neem) leaves. The reflectance spectra of the untreated and treated silk fabrics were followed using spectrophotometer technique. The effects of dyeing conditions in the optical parameters, such as; CIE tristimulus values, color parameters, absorption coefficient as well as extinction coefficient and color strength, were determined before and after exposure. The obtained results indicate that the silk fabrics were found to be highly dependent on either of these different dyeing conditions and/or artificial day light exposure. Also, variations in the values of the optical band gap energy were detected. Improvement in the dyeing process were produced which may be attributed to the induced structural change due to the variation in the chemical bonds in silk fabrics. The present work gives the chance to produce a new traditional natural dye to meet the environmental future demands technology of high quality fantastic dyed pattern.
DOI
http://doi.org/10.25135/jcm.12.18.01.061
Keywords
Natural dye
neem plant
silk fabrics
dyeing conditions
optical properties
DETAILS
PDF OF ARTICLE
© 2018 ACG Publications. All rights reserved.
Original Article
5) The establishment of metrological characteristics of the method "Ethanol as Internal Standard" for the direct determination of volatile compounds in alcoholic products
J. Chem. Metrol. (2018) 12: ; 59 - 69
by Siarhei Charapitsa, Svetlana Sytova, Anton Korban, Nicolai Boyarin, Inna Shestakovich and Radomír Čabala
An extensive study concerning the problem of volatile compounds determination in alcoholic products by gas chromatography has been undertaken in the paper. A row of gravimetrically prepared standard solutions was analysed with three analytical methods: traditional method of internal standard, advanced method of internal standard and external standard method. The main analytical characteristics and metrological parameters of the "Ethanol as Internal Standard" method were compared with the traditional approaches. It was shown that this method leads to correct values of volatiles concentrations and the corresponding metrological characteristics are generally better.
DOI
http://doi.org/10.25135/jcm.14.18.02.063
Keywords
A lcoholic products
ethanol
gas chromatography
quantification
volatile compounds
DETAILS
PDF OF ARTICLE
© 2018 ACG Publications. All rights reserved.
Original Article
6) Determination of sulfonamides in milk by ID-LC-MS/MS
J. Chem. Metrol. (2018) 12: ; 70 - 78
by Isin Aydin Unsal, Murat Tasan, Taner Gokcen and Ahmet C. Goren
In this study, an ID-LC-MS method was developed and validated for the determination of 14 sulfonamides in milk samples. Recovery results were found to be in the range of 91%-114% for milk samples. The relative measurement uncertainty was between 7.5%- 12.7%. Validated method was performed on milk samples obtained from market and street vendors. The amount of sulfonamides in the analyzed samples was found to be below the legal limits (Sulfamethazine: 6.46±0.76 ng/g and sulfisoxazole: 7.3±0.71 ng/g).
DOI
http://doi.org/10.25135/jcm.15.18.04.081
Keywords
Sulfonamides
isotope dilution
LC-MS/MS
method validation
uncertainty estimation
DETAILS
PDF OF ARTICLE
© 2018 ACG Publications. All rights reserved.
Original Article
7) Comparative determination of ruscogenins content in Butcher's Broom rhizome samples gathered from the populations grown in different soil conditions in the Marmara Region and attempts for pilot field cultivation of rhizomes
J. Chem. Metrol. (2018) 12: ; 79 - 88
by Gulcin Ozer, Etil Guzelmeric, Gozde Sezgin, Ercan Ozyurek, Avni Arslan, Ekrem Sezik and Erdem Yesilada
In this study, it was aimed to qualify the rhizome samples of butcher's broom (Ruscus aculeatus L.) gathered from various populations distributed naturally in The Marmara Region of Anatolia (Asian part of Turkey) based on the methods described in European Pharmacopoeia. For this purpose, rhizomes were sampled from 18 divers populations; namely, 6 from Istanbul, 4 from Bursa, 4 from Adapazarı, 2 from Balıkesir and 2 from Çanakkale. For qualitative analysis HPTLC method was used in order identify ruscogenin and stigmasterol and these were determined in all samples. For quantitative analysis, concentrations of total ruscogenin (mixture of neoruscogenin and ruscogenin) were analyzed by HPLC technique. According to The European Pharmacopoeia, Butcher's broom rhizomes should contain at least 1% ruscogenins and the rhizome samples obtained from Bahçeköy, Biga, Karacabey, Poyrazlar, Gönen and Kanlıca were found consistent with this limit. For pilot field cultivation trial, rhizome sections were prepared from the selected rhizome samples by cutting carefully from their knuckles. The sections then were planted in the nursery under 3 different crown closures with three replications (one of which to serve control). However, it was observed that the survival ratio of seedlings, which was 1% in the first year in the nursery, declined even further in the 2nd and 3rd years, and finally the seedlings dried up, neither developed a root system nor formed a rhizome. Consequently, further cultivation studies should be carried out under suitable climatic conditions and soil compositions by directly planting the rhizomes.
DOI
http://doi.org/10.25135/jcm.17.18.05.094
Keywords
Ruscus aculeatus L.
ruscogenin
neoruscogenin
stigmasterol
cultivation
DETAILS
PDF OF ARTICLE
© 2018 ACG Publications. All rights reserved.