Journal of Chemical Metrology Articles
EISSN: 1307-6183
Issue: 1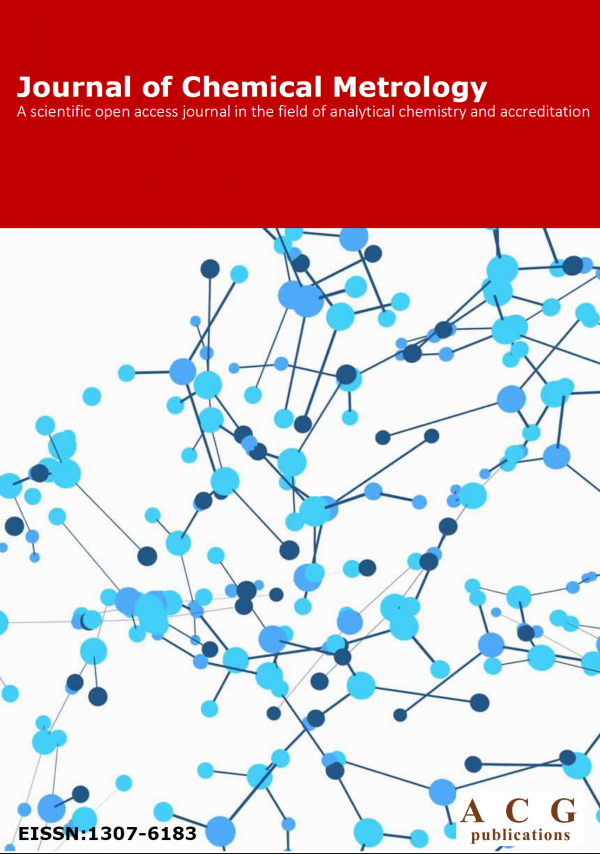 DOWNLOAD PDF
Journal of Chemical Metrology
Year: 2008 Volume: 2 Issue:1
Original Article
1) Flow Injection Analysis with Two Parallel Detectors: Potentiometric and Spectrophotometric Determination of Thiols and Ascorbic Acid in Mixture
J. Chem. Metrol. (2008) 2:1 ; 1 - 12
by Anita Martinović , Štefica Cerjan-Stefenović , Njegomir Radić
One flow injection analysis (FIA) procedure for the successive potentiometric and spectrophotometric determination of ascorbic acid (AA) and thiols (cysteine, cys; N-acetyl-L-cysteine, NAC; penicillamine, pen; glutathione, glu) in mixtures has been described. The potentiometric FIA signal is based on the reaction of formation the sparingly soluble salts, RSAg, between thiols (designated also as RSH) and Ag + ions. Ascorbic acid has had no influence on potentiometric signal at any experimental concentration. The spectrophotometric FIA signal is based on redox-reaction of chosen compounds with 1,10-phenanthroline-iron(III) complex. For potentiometric determination of thiols and spectrophotometric determination of selected compounds a rectilinear calibration graphs were obtained.
Keywords
Flow-injection analysis
Thiols
Ascorbic acid
Potentiometry
Spectrophotometry
DETAILS
PDF OF ARTICLE
© 2008 ACG Publications. All rights reserved.