Journal of Chemical Metrology Articles
EISSN: 1307-6183
Issue: 1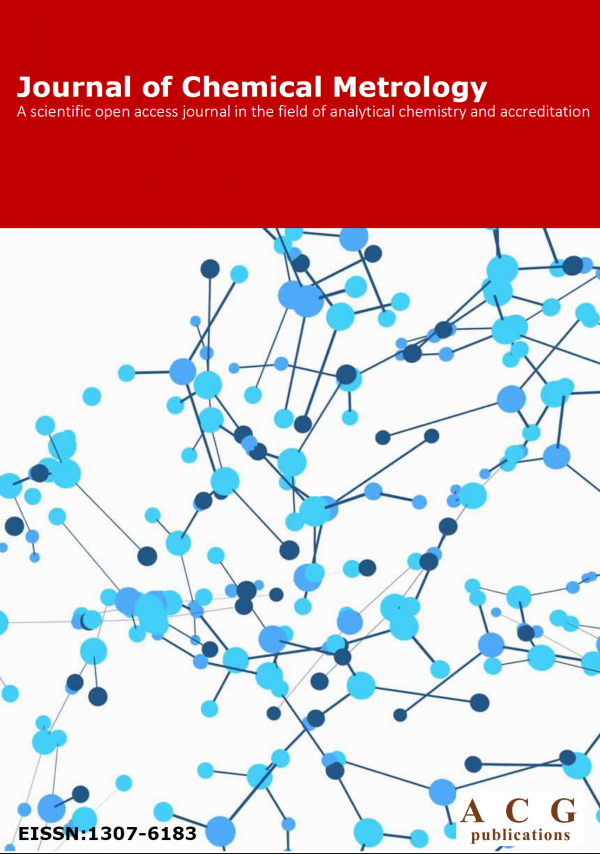 DOWNLOAD PDF
Journal of Chemical Metrology
Year: 2015 Volume: 9 Issue:1
Original Article
1) A quantitative method for the measurement of hydrolyzed type-I collagen protein in dietary supplement syrup using HPLC-SEC-UV technique
J. Chem. Metrol. (2015) 9:1 ; 1 - 15
by Bilgin Vatansever and Burcu Binici
Collagen is one of the most represented proteins in human body. Type-I collagen, also known as Peptan ®, belongs to the collagen family. To measure hydrolyzed type-I collagen directly in supplement syrup, a HPLC-SEC-UV technique was applied as an analytical method. The method was validated considering the FDA (Food and Drug Administration) guidelines. Calibration curves were linear over the entire range from 200 to 1000 µg/mL and the regression coefficients (r) were above ≥ 0.99. Intra- and inter batch accuracies , determined as a deviation between nominal and measured values, ranged from 0.9 to 2.8% and from 0.5 to 1.7%, respectively. Type-I collagen showed extraction recoveries above 99%. The method was successfully applied to a sample of 25 mL supplement syrup, containing 10000 mg hydrolyzed type-I collagen. A final concentration of (10974.2 ± 172.9) mg in 25 mL was found.
Keywords
Collagen
Proteins
Quantitative Analysis
Method Validation
HPLC
Dietary Supplements
DETAILS
PDF OF ARTICLE
© 2015 ACG Publications. All rights reserved.
Original Article
2) Halal authenticity of sausage samples by qPCR analysis
J. Chem. Metrol. (2015) 9:1 ; 16 - 21
by Burhanettin Yalçınkaya and Müslüm Akgöz
The origin of meat products and any porcine contamination should be carefully analyzed for Halal certificaiton. Different methods are utilized for origin detection and of meat and meat products. Due to the sencitivity and selectivity, Real Time PCR is used widely in the area. In this method, even very small amounts of DNA can be determined. In this study, sausages from the most famous sausage brands in Turkey were purchased from the market and they were screened for origin detection and porcine contamination. It was found that none of the sausage samples had any porcine contamination.
Keywords
Metrology
halal food
meat product
DETAILS
PDF OF ARTICLE
© 2015 ACG Publications. All rights reserved.