Records of Natural Products Articles
EISSN: 1307-6167
Issue: 4 July-August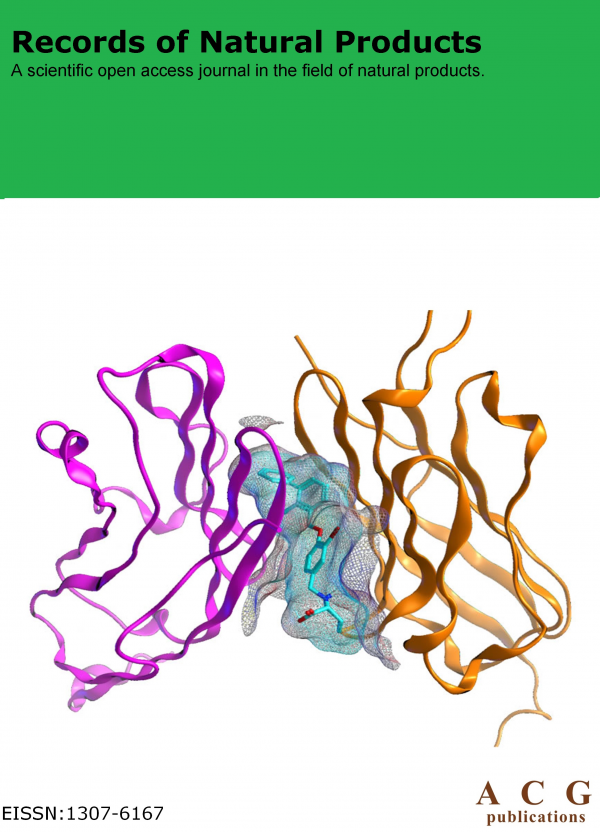 DOWNLOAD PDF
Records of Natural Products
Year: 2021 Volume: 15 Issue:4 July-August
Review Article
1) Genus Melaleuca - A Review on the Phytochemistry and Pharmacological Activities of the Non-Volatile Components
Rec. Nat. Prod. (2021) 15:4 ; 219 - 242
by Fatma M. Abdel Bar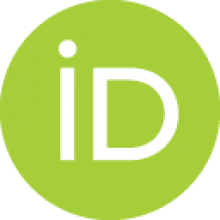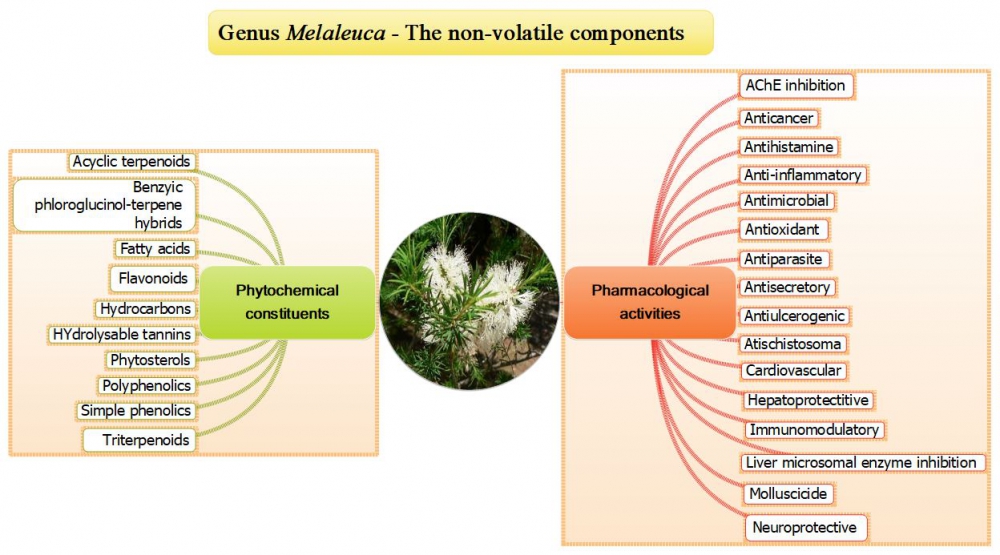 Plants of the genus Melaleuca which belong to family Myrtaceae, commonly named "tea trees", are economically important plants. When talking about tea trees, the essential oils are the center of attention, leaving all other phytoconstituents in their shade. Many reviews addressed the composition and pharmacological activities of Melaleuca alternifolia L. essential oil as the most common one. To date, there are no detailed reviews summarizing the phytochemical and pharmacological properties of the non-volatile components of members of the genus Melaleuca. After distillation of the volatile oil, large amounts of these plants' waste remain untapped. This review indicates that this genus is a rich source of diverse groups of bioactive phytochemicals, including flavonoids, triterpenoids, benzylic phloroglucinol-terpene derivatives, polyphenols, hydrolysable tannins, and other compounds. It also discusses the diverse pharmacological activities reported for plants of this genus.
DOI
http://doi.org/10.25135/rnp.210.20.09.1801
Keywords
Melaleuca
Myrtaceae
tea tree
paperbark tree
phytochemistry
pharmacological activities
DETAILS
PDF OF ARTICLE
© 2021 ACG Publications. All rights reserved.
Review Article
2) Silybum marianum: not just Silymarin and Flavonolignans
Rec. Nat. Prod. (2021) 15:4 ; 243 - 253
by Maria Giordano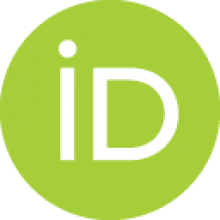 , Giovanni Luongo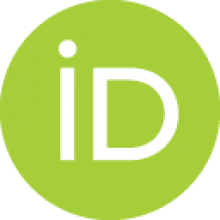 , Sergio Davinelli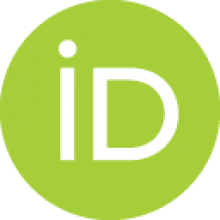 , Afef Ladhari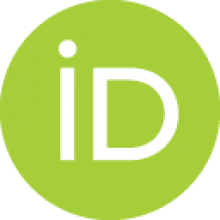 , Giuseppina Rita Nappo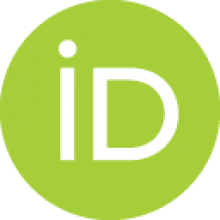 and Maddalena Giordano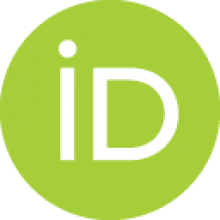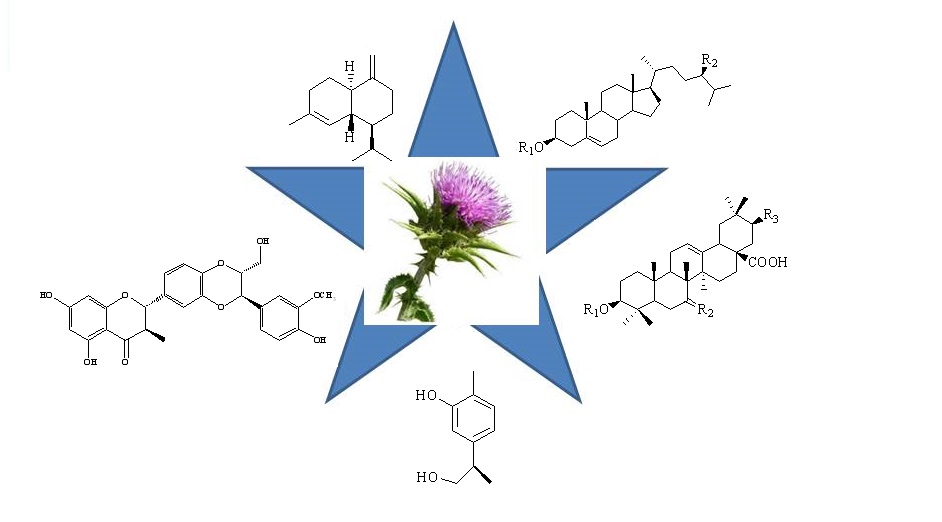 The use of Silybum marianum L. for therapeutic purposes has been known since ancient times. Its phytocomplex reduces transaminases and other biohumoral indices in the course of liver disease and also in hepato-renal syndrome. In particular, the flavonolignan component has shown properties that would partially explain the ability of the phytocomplex to induce a certain regeneration of liver cells, stimulate the cellular elimination of toxins and reduce the inflammatory component, present in fatty, alcoholic and hormonal therapies with steroids. S. marianum is also successfully used in the treatment of patients with symptomatic chronic hepatitis, with complete disappearance of clinical symptoms, such as asthenia, loss of appetite, severe meteorism, dyspepsia, and with normalization of transaminases. The same results can be obtained in patients undergoing heavy chemotherapy cycles. Modern herbal medicine uses it in decoction or infusion, however with some caution in patients suffering from hypertension, due to the presence of tyramine. In addition, the extracts of the roots have antioxidant, diuretic and febrifugal properties and those of the leaves have aperitif properties. It is therefore interesting to provide a picture of the different non-flavonolignanic components (terpenes, steroids and essential oils) of the plant and their properties, which have perhaps been wrongly neglected over the past few years.
DOI
http://doi.org/10.25135/rnp.219.20.09.1827
Keywords
Silybum marianum
silibinin
terpenes
steroids
biological activity
DETAILS
PDF OF ARTICLE
© 2021 ACG Publications. All rights reserved.
Original Article
3) Isolation, Characterization and Antioxidant, Tyrosinase Inhibitory Activities of Constituents from the Flowers of Cercis glabra 'Spring-1'
Rec. Nat. Prod. (2021) 15:4 ; 254 - 260
by Penghua Shu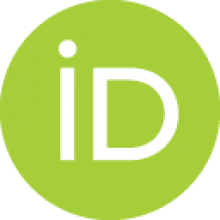 , Yamin Li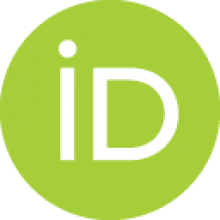 , Yuehui Luo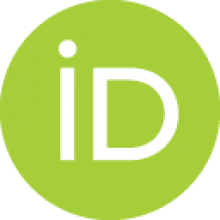 , Shujing Cai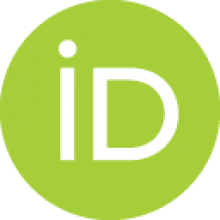 , Yingying Fei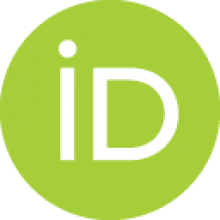 , Wenhan Yi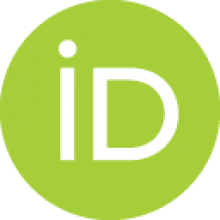 , Yuan Yang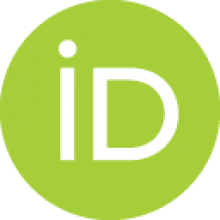 , Xialan Wei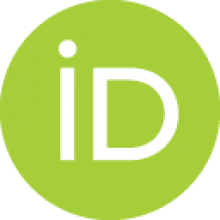 , Yuhuan Zhang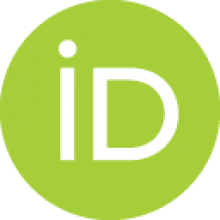 , Tieyao Tu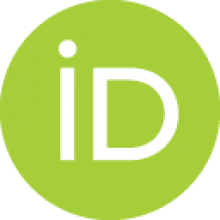 and Lin Zhang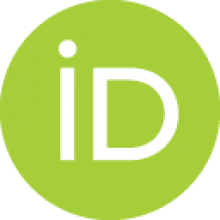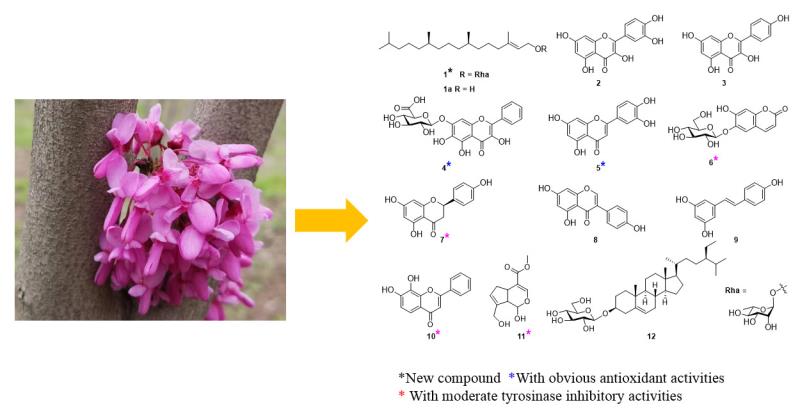 A phytochemical study on the flowers of Cercis glabra 'Spring-1' led to the isolation and identification of twelve compounds, including one new compound named as 1-O-α-l-rhamnosyl-(E)-phytol (1) and eleven known compounds. Their structures were elucidated based on physical data analysis, including HR-ESI-MS, NMR, UV, IR, and acid hydrolysis. All compounds were screened for in vitro antioxidant activity using 2,2-diphenyl-1-picrylhydrazyl method. Compounds 4 and 5 exhibited obvious DPPH radical scavenging activities. All the isolates were tested for their inhibitory effects on mushroom tyrosinase, and compounds 6, 7, 10 and 11 showed moderate tyrosinase inhibitory activities.
DOI
http://doi.org/10.25135/rnp.214.20.10.1851
Keywords
Cercis glabra 'Spring-1'
1-O-α-l-rhamnosyl-(E)-phytol
antioxidant
tyrosinase.
DETAILS
PDF OF ARTICLE
© 2021 ACG Publications. All rights reserved.
Original Article
4) A New Phenylpropanoid from the Roots of Solanum melongena L. and Evaluation of Anti-inflammatory Activity
Rec. Nat. Prod. (2021) 15:4 ; 261 - 266
by Yan Liu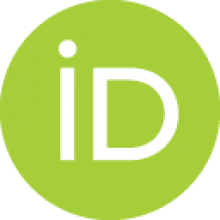 , Xin Yin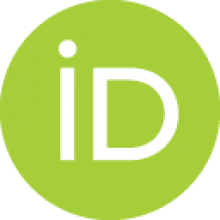 , Yanping Sun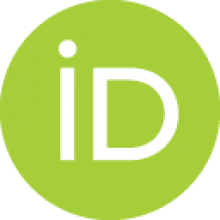 , Yuan Liu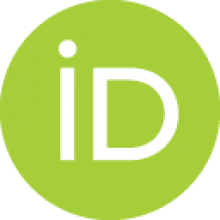 , Dongxv Lu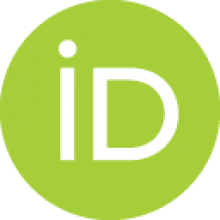 , Yuanyuan Zhou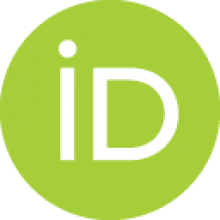 , Mohammed Algradi Adnan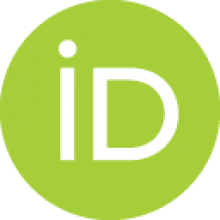 , Juan Pan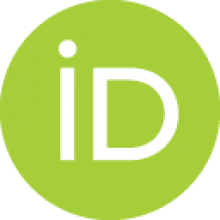 , Wei Guan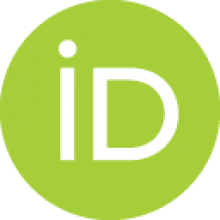 , Bingyou Yang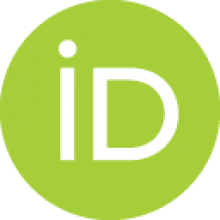 and Haixue Kuang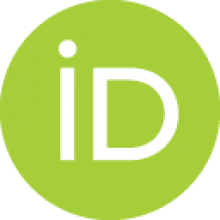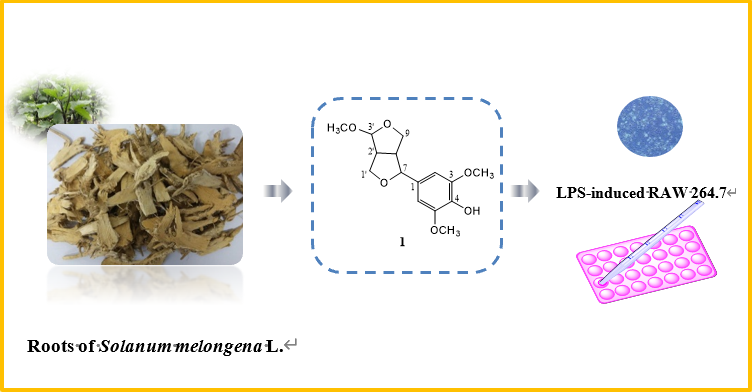 Fifteen phenylpropanoids were isolated from the ethanol extract of the roots of Solanum melongena L., including a new compound, melongenapanoid A (1), together with fourteen known compounds (2-15). Their chemical structures were elucidated by 1D and 2D NMR and HR-MS data according to those values of the literatures. The fourteen known compounds (2-15) were all firstly isolated from this plant. While, the isolates were evaluated for the inhibitory activities on nitric oxide (NO) production induced by lipopolysaccharide (LPS) in RAW 264.7 cell line. Compounds 2, 4 and 5 showed moderate inhibition of NO production with IC50 values of 28.7, 24.4 and 32.6 μM, respectively.
DOI
http://doi.org/10.25135/rnp.211.20.10.1837
Keywords
Solanum melongena L
natural products
phenylpropanoids
anti-inflammatory activity
DETAILS
PDF OF ARTICLE
© 2021 ACG Publications. All rights reserved.
Original Article
5) Understanding Radix Angelica sinensis Blood Replenishing mechanisms on Blood Deficiency Rats Based on a UPLC-Q/TOF-MS Metabolomics and Network Pharmacology
Rec. Nat. Prod. (2021) 15:4 ; 267 - 280

Radix Angelica sinensis (RAS) is a famous Chinese medicine with hematinic effects and has been applied for the treatment of blood deficiency syndrome for many years. Previous studies have indicated that RAS has beneficial effects in the treatment of hemolytic anemia. The hemolytic anemia/blood deficiency syndrome is a common syndrome that is often presented in most traditional Chinese medicine (TCM) clinics. Based on routine blood indicators, metabolomics analysis was conducted to investigate the mechanism of RAS in the treatment of hemolytic anemia. Multivariate and univariate statistical analysis were used to identify potential biomarkers in the serum. On administering RAS to the haemololitic anaemic rat, the levels of WBC, RBC, HGB, and PLT in AG tended to shift toward that of the control group. Additionally, all the 26 metabolites such as cholic acid, succinic acid and orotate which are regulated by blood deficiency appeared normal through the five metabolic pathways, such as linoleic acid metabolism, alanine, aspartic acid and glutamate metabolism, pyrimidine metabolism, arginine and proline metabolism. Thus, three metabolic pathways predicted by the network pharmacology were consistent with the metabolism pathway of Angelica sinensis: linoleic acid metabolism, arginine and proline metabolism, tryptophan metabolism. The integrated metabolomics and network pharmacology comprehensively improved the understanding of the physiological and metabolic state of an organism. The possible hematopoietic effects and underlying mechanism of action on hemolytic anemia rats after lavage with RAS water extracts, could potentially be elucidated by combining pharmacology with untargeted metabolomics. These pointed out the significance of metabolomics as a valuable tool for studying the essence of Chinese medicine's syndrome theory and the mechanism of RAS under anti-blood deficiency syndrome.
DOI
http://doi.org/10.25135/rnp.224.21.01.1950
Keywords
Angelica Sinensis
replenishing blood effect
UPLC-Q/TOF-MS
metabolomics
network pharmacology
DETAILS
PDF OF ARTICLE
© 2021 ACG Publications. All rights reserved.
Original Article
6) Biotransformation of Perrottetin F by Aspergillus niger: New Bioactive Secondary Metabolites
Rec. Nat. Prod. (2021) 15:4 ; 281 - 292
by Danka Bukvicki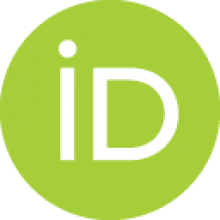 , Miroslav Novakovic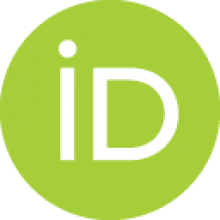 , Tatjana Ilic-Tomic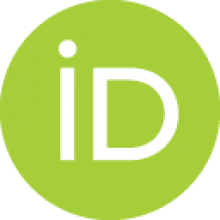 , Jasmina Nikodinovic-Runic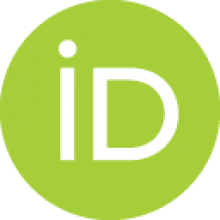 , Nina Todorovic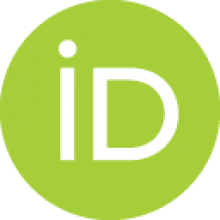 , Milan Veljic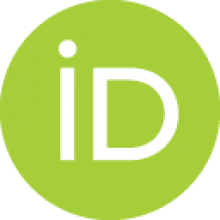 and Yoshinori Asakawa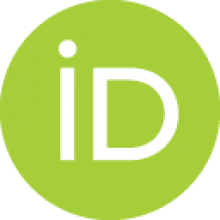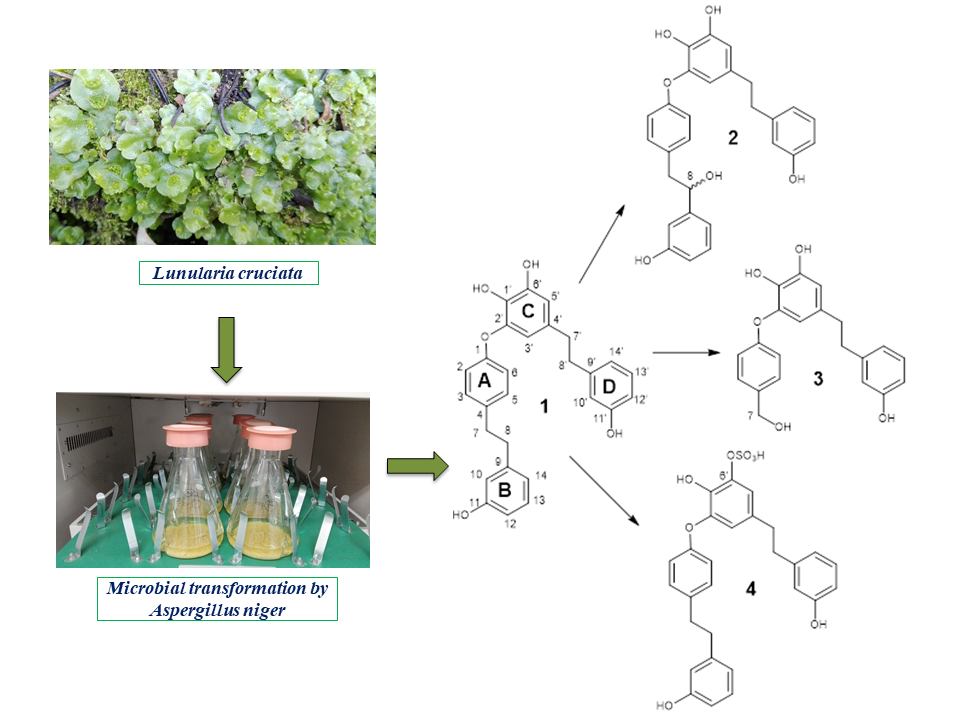 Biotransformation of bis-bibenzyl perrottetin F (1), isolated from the liverwort Lunularia cruciata by Aspergillus niger, has been investigated. New metabolites (2-4) have been isolated using reversed phase semipreparative HPLC and their structures were established to be 8-hydroxyperrottetin F, C-7-C-8 cleaved product, and perrottetin F 6'-sulfate using 1D and 2D NMR, HR-ESI-MS, IR and UV spectroscopy. The antimicrobial and cytotoxic properties of these compounds were also evaluated. Given the suggested cytotoxic properties of the parent compound, antiproliferative activity against healthy human lung fibroblasts (MRC5) and human lung carcinoma (A549) of three metabolites were evaluated revealing their lower cytotoxic properties in comparison to the starting compound - perrottetin F. The antimicrobial properties of these compounds were also evaluated, with the inhibitory activity against the Pseudomonas aeruginosa PAO1 and Staphylococcus aureus determined between 100 µM and 450 µM. The metabolites showed remarkable ability to inhibit synthesis of bacterial quorum-sensing signal molecules such as short chain acyl homoserine lactones (AHLs). Therefore, biotransformation method represents fast and effective tool for obtaining new bioactive structures.
DOI
http://doi.org/10.25135/rnp.215.20.09.1812
Keywords
Biotransformation;
perrottetin F;
liverworts;
Aspergillus niger;
cytotoxic activity;
1D and 2D NMR
DETAILS
PDF OF ARTICLE
© 2021 ACG Publications. All rights reserved.
Original Article
7) New Flavonoids from Saudi collection of Tephrosia purpurea L. (Pers.)
Rec. Nat. Prod. (2021) 15:4 ; 293 - 300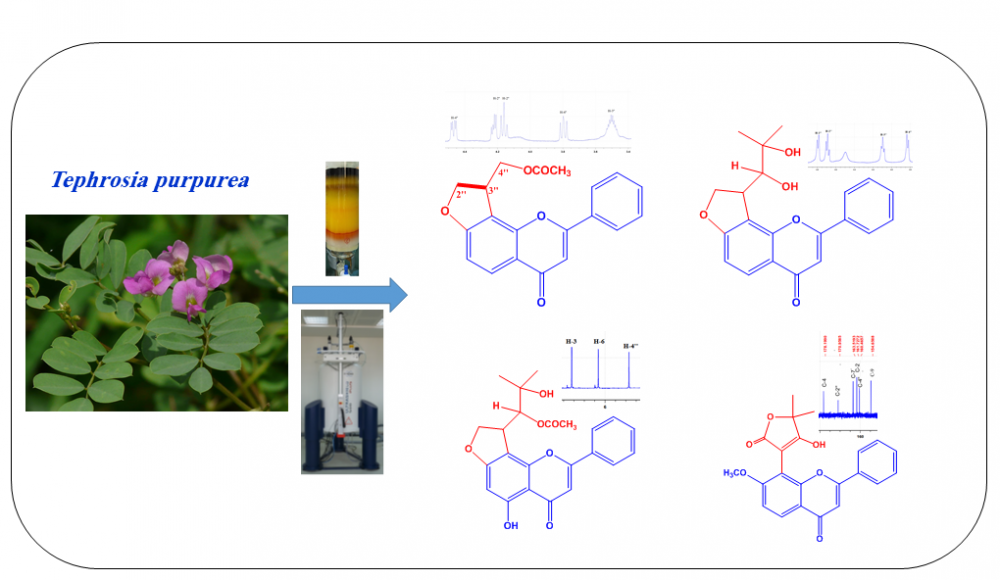 Phytochemical investigation of the chloroform fraction obtained from Saudi collection of Tephrosia purpurea L. (Pers.) resulted in the isolation of four new and two known flavonoid derivatives. Three of the new compounds were 5-deoxyflavonoid derivatives identified as tephropurpugazanin (1), 4''-hydroxyapollinin (4), epi-tephroapollin E (5) as well as (-)-tephropurpulin A (2). The known compounds were identified as 3,7-dihydroxy-8-methoxy-2-(4-methoxyphenyl)-4H-1-benzopyran-4-one (3) and tephroapollin E (6). Structures were elucidated utilizing different spectroscopic tools including UV, optical rotation, 1D- and 2D-NMR as well as HRESIMS.
DOI
http://doi.org/10.25135/rnp.216.20.10.1828
Keywords
Tephrosia purpurea
isolation
structure elucidation
5-deoxyflavonoid
DETAILS
PDF OF ARTICLE
© 2021 ACG Publications. All rights reserved.
Original Article
8) Volatile Constituents of Cistanche tubulosa and Their Antioxidant and Antimicrobial Potentials
Rec. Nat. Prod. (2021) 15:4 ; 301 - 311
by Arafa Musa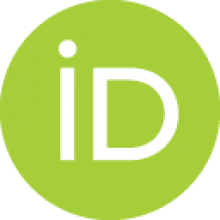 , Khaled F. El-Massry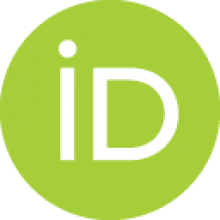 , Ahmed H. El-Ghorab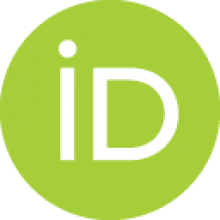 , Amr Farouk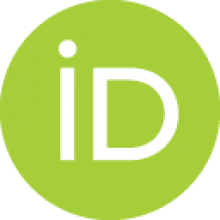 , Hazim M. Ali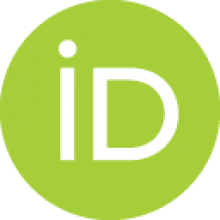 , Mohamed A. Abdelgawad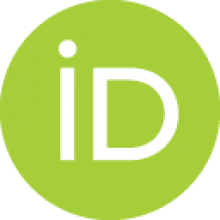 , Ibrahim A. Naguib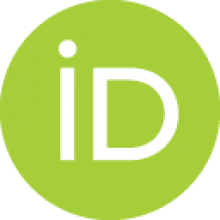 and Ehab M. Mostafa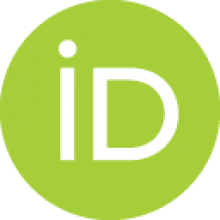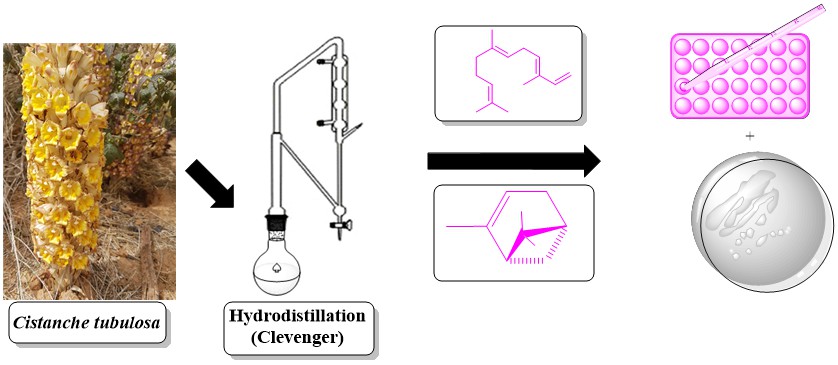 The hydrodistilled volatile constituents of Cistanche tubulosa (commonly known as Desert Ginseng) have been chemically and biologically investigated. Based on the retention times and mass fragmentation of the obtained GC-MS chromatogram, 106 individual components which representing ≈ 99.29 % of the total volatile constituents have been identified. The major compounds (66.57% of the total composition) were identified as hexanal (15.98%), trans-sabinyl acetate (12.22%), allo-aromadendrene (9.30%), nonanoic acid (6.66%), 3Z- hexeny-2-methyl butanoate (6.09%), valeranone (5.25%), (E, E)-α-Farnesene (3.18%), a-pinene (3.06%), linalool isovalerate (3.03%) and a-humulene (1.8%). Estimation of the antioxidant activity of EO showed promising effect at 80 mg/mL concentration, it exerted 62.40, 863.29 and 62.72 % inhibition compared to TBHQ that showed 78.62, 77.56 and 79.23 % inhibition using DPPH, ABTS and β-carotene/Linoleic acid, respectively. The antioxidant activity was pronounced at 80 mg/mL than other concentrations. The volatile constituents showed inhibitory activity against gram positive bacteria ranged from 2.23 mg/100 mL ( for staphylococcus aureus ), and 15.68 mg/100 mL (for Bacillus cereus) compared to ciprofloxacin which showed inhibitory activity 0.185, and 0.182 mg/100 mL, respectively. Moreover, the MIC of volatiles towards gram negative bacteria are ranged from 18.35 (Escherichia coli) to 31.61 mg/100 mL (Klebsiella pneumonia) compared to ciprofloxacin with 0.184 to 0.188 mg/mL respectively. Additionally, the antifungal activity against candida albicans was rather promising (4.36 mg/mL).
DOI
http://doi.org/10.25135/rnp.220.20.11.1859
Keywords
Cistanche tubulosa
volatile constituents
antioxidant
antimicrobial
Orobanchaceae
DETAILS
PDF OF ARTICLE
© 2021 ACG Publications. All rights reserved.
Original Article
9) Metabolic Correlations of Salvia dugesii Fernald and Salvia gesneriiflora Lindl. & Paxton with Native Salvia Plants from Four Continents Using Essential Oils Compositions
Rec. Nat. Prod. (2021) 15:4 ; 312 - 323
by Mónica A. Calderón-Oropeza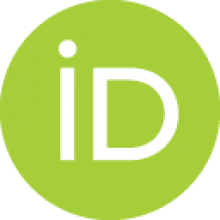 , Ernesto Ramírez-Briones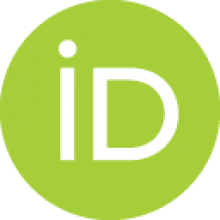 , Gabriela Rodríguez-García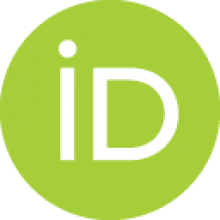 , José L. Salvador-Hernández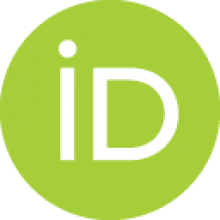 , Brenda Y. Bedolla-García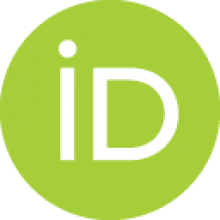 , Sergio Zamudio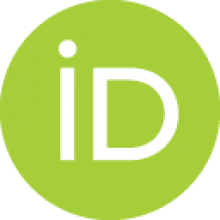 , Luis D. Maldonado-Bonilla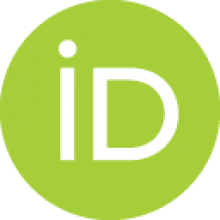 , Rosa E. Del Río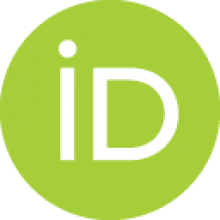 and Mario A. Gómez-Hurtado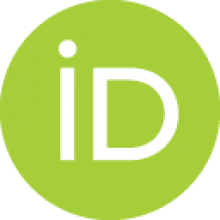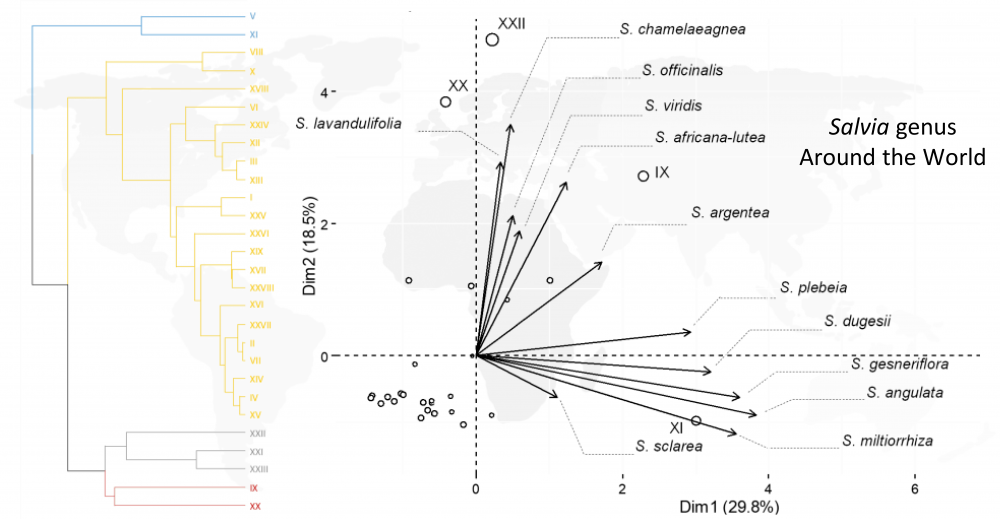 Several applications of natural products around the world arise from traditional knowledge or evident organoleptic properties, and essential oils from Salvia species are a current example. The genus is integrated by native and endemic species from Africa, the Americas, Asia, and Europe. In the present work, essential oil compositions of Salvia dugesii and S. gesneriiflora were experimentally determined and statistically correlated with ten described Salvia species from four continents by using multivariate methods complemented with univariate analysis and PCA protocols, to establish metabolic approaches. Essential oils data from S. angulata, S. miltiorrhiza, S. plebeia, S. sclarea, S. argentea, S. viridis, S. lavandulifolia, S. africana-lutea, S. chamelaeagnea, and S. officinalis were included in the study. By the above, 146 essential oil components, classified into 29 structural skeletons, according to its biogenesis, were analyzed. The results provided metabolic similarities between American and Asian Salvia species due to a higher active sesquiterpene metabolism; and African and European species revealed chemical similarities, since monoterpene pathways dominate. Such correlations are in concordance with genetic knowledge about genus, thereby, approaches on metabolism of Salvia can be easily visualized using statistical tools, consequently, practical method to analyze Salvias for scientific proposes.
DOI
http://doi.org/10.25135/rnp.223-19.121912
Keywords
Salvia
Salvia dugesii
Salvia gesneriiflora
Lamiaceae
essential oil metabolism
chemometric analysis
DETAILS
PDF OF ARTICLE
© 2021 ACG Publications. All rights reserved.
Short Report
10) Chemical Composition, and Evaluation of Antibacterial,Antibiofilm and Synergistic Effects with Conventional Antibiotics of Essential Oil from Mallotus repandus
Rec. Nat. Prod. (2021) 15:4 ; 324 - 329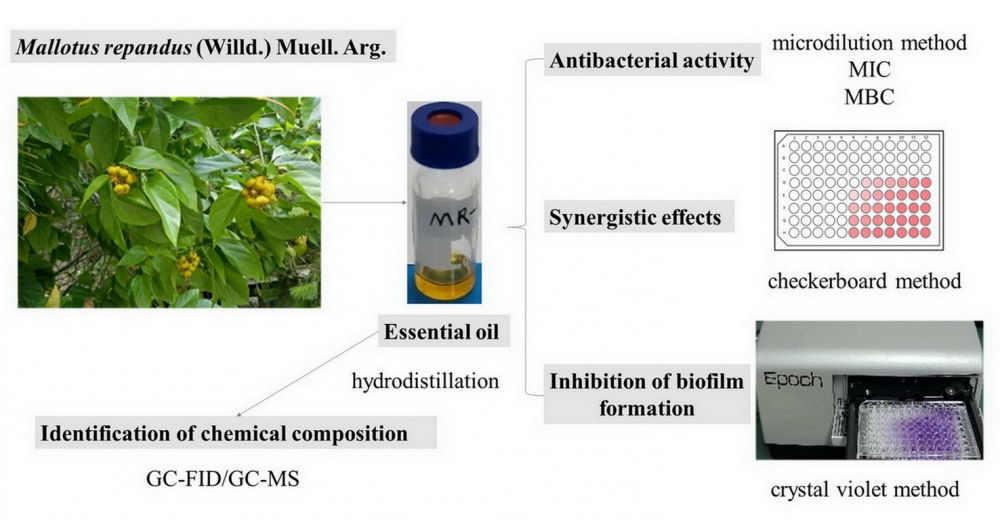 The essential oil (EO) of aerial parts of Mallotus repandus (Willd.) Muell. Arg. was extracted by hydrodistillation and characterized by GC/FID and GC/MS. Fifty-one compounds comprising 97.1% of the EO were identified, of which α-humulene (18.7%), β-selinene (12.8%), aciphyllene (10.7%), (E)-caryophyllene (8.4%), α-copaene (5.5%), humulene epoxide II (4.9%) and caryophyllene oxide (4.3%) were the major compounds. The EO was evaluated for antibacterial properties using broth microdilution method and crystal-violet static biofilm formation assay. The M. repandus EO possessed a bactericidal effect against tested gram-positive bacteria strains (MIC = MBC: 0.05-0.10 mg/mL). Further, the EO showed the ability to inhibit the biofilm formation of Staphylococcus aureus. In addition, the potential synergistic effect was assessed by checkerboard method. Combination of the M. repandus EO with Streptomycin showed synergistic effects against the tested bacterial strains. This study demonstrates that M. repandus EO could be further explored as good alternative for potential pharmaceuticals.
DOI
http://doi.org/10.25135/rnp.217.20.10.1854
Keywords
Mallotus repandus (Willd.) Muell. Arg.
essential oil
antibacterial activity
antibiofilm activity
synergistic effects
DETAILS
PDF OF ARTICLE
© 2021 ACG Publications. All rights reserved.